Edited 8/31/12: See a video tutorial on how to frost a rose ombre cake here.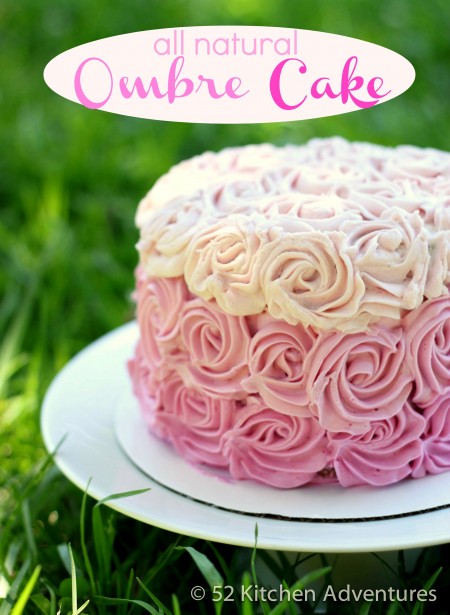 It was such fun to read all the Chocolate Chip Cookie Challenge posts. There were recipes for chocolate chip cookies with bacon to s'mores chocolate chip cookies and everything in between. Honestly, I thought there would be more classic chocolate chip cookie recipes but it's actually more fun to read about all the interesting variations of the original. I'm pretty satisfied with my perfect chocolate chip cookie recipe anyway, so I'm excited to have some more innovative cookie recipes to try. (P.S. If you haven't added your favorite chocolate chip cookie recipe yet, you still have time to add yours!)
While all the cookie craziness was going on, I quietly slipped away for an amazing adventure in Australia. I hope you didn't miss my absence – I carefully scheduled guest posts and even updates to Facebook and Twitter so things would continue business as usual. I can't wait to tell you all about my trip, including photos of the world's cutest koalas. But I came home to a house full of boxes (we moved 4 days before leaving the country), so things have been a bit busy. I will tell you all about it soon, I promise!
I have had a little time to break in my new oven (which, by the way, is in the biggest kitchen I've ever had! I will have to share photos or video soon). My birthday lands right in between my sister's and sister-in-law's birthdays, which are spread across mid-August to early September, so we usually celebrate together. I made a cake for the family picnic we had, but I didn't want it to be just any plain ol' cake. I thought making an ombre cake would add a special touch.
The ombre trend has been going strong all summer. From hair and nail color to cakes and even wall color, I've seen it all over Pinterest. What the heck is ombre? Ombré is a French word that means "having colors or tones that shade into each other — used especially of fabrics in which the color is graduated from light to dark." (Source: Merriam-Webster)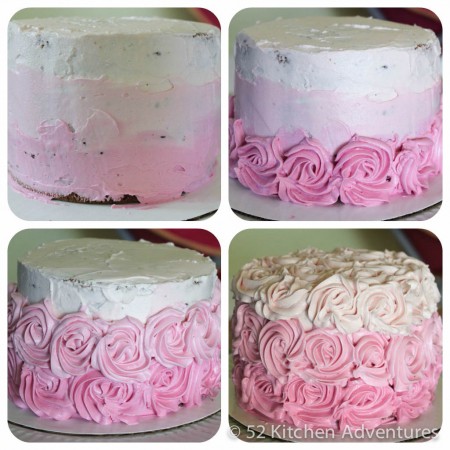 On a cake, color fading from dark to light is so pretty. Combine that with the rose frosting technique and you get a truly breathtaking cake. This one is a show stopper, and it isn't that hard to make! I promise a video tutorial very soon, hopefully next week. I've been meaning to incorporate video into 52 Kitchen Adventures for a while and this is the perfect opportunity to dive into it.
What's exciting about this particular ombre frosting is that there is no food coloring in it. How did I make that lovely pink color? Brace yourself, this is going to sound pretty gross…
It's beet juice!
(Props to Becci Sundberg for being the first to guess the secret ingredient on my Facebook post.)
You can't even taste the beets, I swear. I didn't tell my family what was in it until after they all took a bite and no one had an inkling that it wasn't food coloring. So now you know how to turn frosting pink without any artificial ingredients! I didn't have much luck dying the cake with beet juice but I'm going to try a different cake recipe and see what happens. I'd love to make an ombre cake inside and out without using food coloring.
All Natural Pink Frosting
Ingredients
Instructions
Prepare vanilla buttercream frosting (or other white frosting). Open the canned beets and pour the juice into a glass. Add a tablespoon of beet juice to the prepared frosting and stir until thoroughly combined. Continue to add, a tablespoon at time, until you reach the desired color.

OR

To create a ombre cake, divide prepared frosting into thirds and pour into 3 separate small bowls. In the first bowl, add 1 teaspoon of beet juice and stir to incorporate (add more if you want it darker). In the second bowl, add 1 tablespoon and stir to incorporate (add more if you want it darker). In the last bowl, add 2 tablespoons and stir to incorporate (add more if you want it darker).
http://www.52kitchenadventures.com/2012/08/22/all-natural-ombre-cake-no-food-dye/
More recipes you'll love: