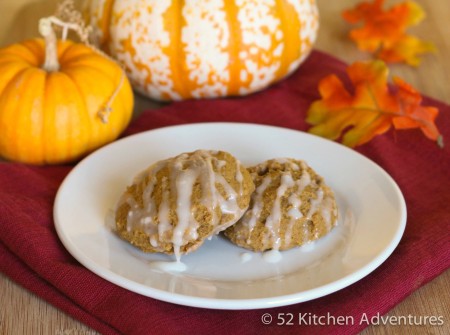 Happy National Pumpkin Day! I've posted a lot of pumpkin recipes lately (doughnuts, cookies, cupcakes, and creamer to name a few), but I can't resist this quintessential fall flavor. What better way to celebrate its day than with some delicious cookies?
When I was working on finding the right balance of spices for my homemade pumpkin pie spice, I needed to make something to test out different versions of it. I made some oatmeal pumpkin chocolate chip cookies recently, but I was craving a softer, less healthy (read: more butter) version of pumpkin cookies. I came up with these pumpkin cookies instead, which are really soft and full of pumpkin spice flavor. I baked some with different versions of homemade pumpkin pie spice and compared them to decide which spice combination was my favorite.
Drizzling them with icing makes them irresistible. If you really want to go all out, add some chocolate chips too!
Soft Pumpkin Spice Cookies
Ingredients
Cookies:

2 1/2 cups flour
1 teaspoon baking soda
1 teaspoon baking powder
1 Tablespoon pumpkin pie spice
1/2 teaspoon salt
1/2 cup butter, at room temperature
1/2 cups granulated sugar
1/2 cup brown sugar
1 cup canned pumpkin
1 large egg
1 teaspoon vanilla extract

Icing:

1 cup powdered sugar
2 Tablespoons milk
1 Tablespoon butter, melted
Instructions
Preheat oven to 350°F. Line a baking sheet with parchment paper or silicone baking mat.
In a large bowl, whisk together flour, baking soda, baking powder, and pumpkin pie spice, and salt.
In a separate large bowl, beat butter and both types of sugar together. Add pumpkin, egg, and vanilla and beat until combined.
Add wet ingredients to dry ingredients and mix until just combined.
Scoop two teaspoons of dough (I used a small cookie scoop) onto prepared cookie sheet. Flatten dough into cookie shape (it will not spread so make it the size and thickness desired).
Bake for 15 minutes, until cookies feel slightly hard when pressed gently. Let cool completely.
Combine all icing ingredients in a small bowl and whisk until well combined.
Drizzle over cooled cookies.
http://www.52kitchenadventures.com/2012/10/26/soft-pumpkin-spice-cookies/