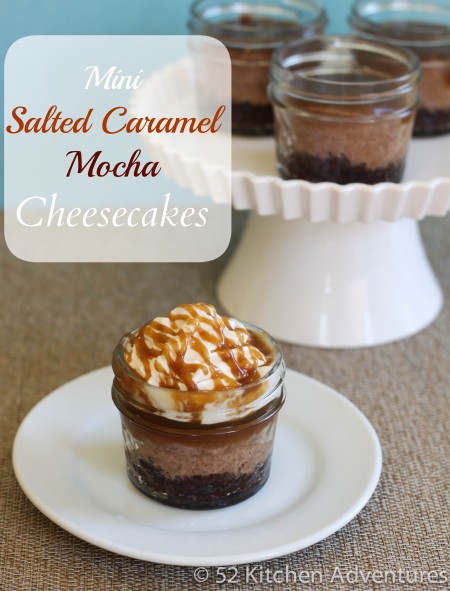 This is a 
very
 special edition of 
Slow Cooker Monday
. It's been a while since I've shared a slow cooker recipe, and this one is pretty darn amazing. In fact, it's so good that I entered into the first ever 
Ultimate Crock-Pot Crock-Star contest
 a couple of weeks ago. What's that? Crock-Pot is hosting a contest to challenge slow cooker enthusiasts to create unique and unexpected original slow cooker recipes. They narrowed down all the submissions and picked their favorite 3 based on originality, creativity, and overall appeal.
Today they're announcing the 3 finalists and…(drum roll, please…) I'm one of them!!

Now that Crock-Pot has narrowed it down to their 3 favorite entries it's 
YOUR turn to vote
! 
Public voting is open from today through Monday, November 25th
. You can vote once a day for the next 2 weeks and you don't need an account or anything. Get this–the grand prize is a trip to NYC to film an episode of From the Kitchens Of… on the Cooking Channel!! So if you want to see me on TV, 
please click here and vote
. And tell your friends to vote. And go vote again tomorrow, and the next day, and the day after that…
Seriously though, this recipe is a real winner. Russ, who has tried approximately 1.5 million of my desserts in the last 8 years, actually said this is his favorite! He's already planning on asking me to make this for his birthday. Which is 6 months away. If this can make him plan that far ahead, it is something special. I give you Exhibit A:
Please excuse the run-on sentence, but I had to show you how much he loved this dessert. Let me tell you why it's so awesome:
Inside those cute little jars, from the bottom up, is: chocolate graham cracker or cookie crust, mocha cheesecake, salted caramel, whipped cream, more salted caramel drizzled on top. It's a pretty decadent dessert, but the little jar gives you a small, satisfying portion. It's the perfect portion control.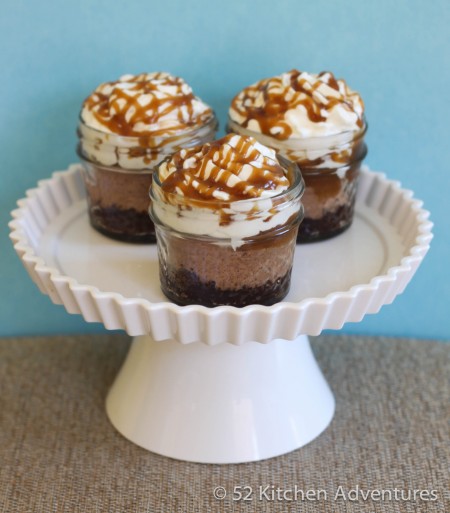 You pop the jars into a slow cooker with some water and they cook in about 90 minutes while you go make dinner or go out and see a movie or whatever you want. I think these would be wonderful for a dinner party. They could cook as you get ready and are already portioned out into individual sizes. All you'd have to do is refrigerate them during dinner and add the toppings with your guests.
Slow Cooker Mini Salted Caramel Mocha Cheesecakes
Ingredients
Mocha cheesecake:

3/4 cup ground chocolate graham crackers or chocolate wafers

(I used chocolate Teddy Grahams)

1/2 stick (4 tablespoons) butter, melted
1/3 cup sugar
8 oz cream cheese, softened
1 large egg
1 oz bittersweet chocolate, melted and slightly cooled
1/2 teaspoon pure vanilla extract
1/2 tsp instant coffee
1/8 tsp salt

Salted caramel:

4 tablespoons unsalted butter
1 cup brown sugar, packed
1/2 cup heavy whipping cream
1/2 teaspoon sea salt or Kosher salt
1 tablespoon pure vanilla extract
Whipped cream for serving (optional)
Instructions
Lightly coat six 4-oz. jars with non-stick spray. Mix ground chocolate crackers or wafers with butter and a pinch of salt. Add a tablespoon plus a teaspoon of crust mixture to each jar. Push down crust into an even layer. Repeat with remaining jars and set aside.
In a large bowl, beat sugar and cream cheese until smooth. Add egg and mixed until combined. Mix in melted chocolate, vanilla, instant coffee, and salt. Pour filling into each jar until 3/4 full and place them into slow cooker. Carefully pour hot water around the jars until they are 3/4 submerged. Cover and cook on high for 1 1/2 hours. When done, they should be solid. Remove from slow cooker and refrigerate for 2 hours.
To make salted caramel, add butter, brown sugar, heavy whipping cream, and salt to a medium saucepan. Cook over medium-low heat for 7 minutes, whisking occasionally. Add the vanilla and cook 1 more minute to thicken further. Pour caramel into a jar, then refrigerate until cold.
When ready to serve, pour salted caramel sauce and whipped cream over each cheesecake.
http://www.52kitchenadventures.com/2012/11/12/slow-cooker-mini-salted-caramel-mocha-cheesecakes/