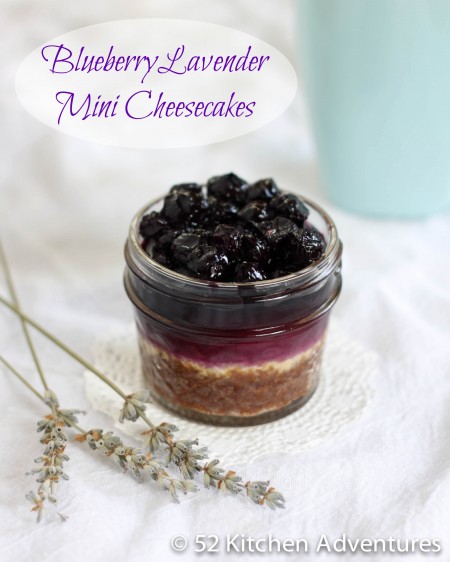 If you're sick of peppermint chocolate desserts, you're in luck; I have two fantastic desserts for you that don't have either of those flavors. The first one I'm excited to share with you because it highlights my all-time favorite fruit: blueberries. The Blueberry Council (sidebar: I love that their website is called Little Blue Dynamos) challenged me to create a winter recipe featuring blueberries, which isn't normally something I'd think about, since they're not in season. They are readily available frozen though, so there's no reason not to enjoy them year-round.
I created this using inspiration from two recipes I've made in the past. The mini salted caramel mocha cheesecakes were such a hit that I knew I had to try them out again in another flavor. Plus, I've made a few variations of blueberry butter and the blueberry lavender butter is my all-time favorite, so I used those flavors to inspire this recipe. Put those two together and you get blueberry lavender mini cheesecakes.
Lavender can be such a subtle flavor that when you bake with it, you can hardly taste it in the finished product. I wasn't sure how much it would come through in the cheesecakes, but the blueberry lavender sauce has a surprisingly strong aroma and flavor of lavender. It adds a lovely floral note to the sweet, deeper flavor of the blueberries.
I love these mini cheesecakes-not only are they cute, but they really make a nice portion size so you don't feel overly full. Instead, you get a perfectly satisfying amount of cheesecake to enjoy. They're great for dinner parties because you can pop them in the slow cooker while you get everything ready and they're ready for serving without any messy slicing. (Bonus: the smaller size means no unsightly cracks on top of your cheesecakes.) 
Slow Cooker Blueberry Lavender Mini Cheesecakes
Ingredients
Mini cheesecakes:

Crust

1 1/2 cup ground graham crackers
1 1/2 tablespoons sugar
1/2 cup (1 stick) unsalted butter, melted

Filling

2/3 cup granulated sugar
2-8 oz. packages cream cheese, softened
2 large eggs
1/4 cup heavy cream

Blueberry lavender topping:

1 teaspoon dried lavender
2 cups frozen blueberries
4 tablespoons sugar
2 tablespoons water
1/2 teaspoon cornstarch
Instructions
Lightly coat 11 4-oz. jars with non-stick spray.

Make the crust:

mix graham cracker crumbs with sugar and butter. Place a heaping 1.5 tablespoons of crust mixture to each jar. Push down crust into an even layer. Repeat with remaining jars and set aside.

Make the filling:

in a large bowl, beat sugar and cream cheese until smooth and pale. Add one egg at a time, mixing until combined. Add heavy cream and mix until incorporated. Pour cheesecake filling into each jar until 3/4 full.
Place filled jars into a large slow cooker. Carefully pour hot water around the jars until they are 3/4 submerged. Cover and cook on high for 1-1 1/2 hours (check after 1 hour to see if done). When done, they should feel solid in the middle. Remove from slow cooker and refrigerate for 2 hours.

Make the blueberry lavender topping:

Place lavender into a mesh tea ball infuser and set aside.
Add blueberries, sugar, water, and cornstarch in a small saucepan over medium-high heat.
Bring to a boil, stirring frequently, and cook for 2-3 minutes. Reduce heat and simmer for another 2-3 minutes, until mixture thickens to desired consistency.
Remove from heat and add mesh tea ball filled with lavender. Cover and let steep for 30 minutes, the remove and discard lavender. Cover and store sauce in fridge until ready to use. Serve over cheesecakes.
http://www.52kitchenadventures.com/2012/12/15/blueberry-lavender-mini-cheesecakes/
More recipes you'll love: