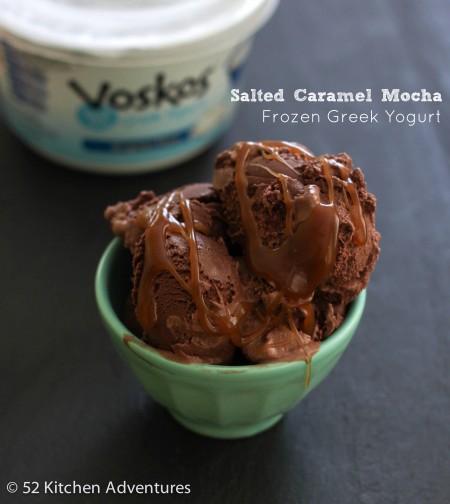 Time to usher in spring and summer time with some Salted Caramel Mocha Frozen Yogurt!
A few weeks ago I polled all my Facebook fans with a simple fill in the blank sentence: My favorite ice cream flavor is ___________! I got 60 responses, from the classic, simple vanilla to more complex flavors like fig and orange custard chocolate chip (I've never had either of those but I'd love to try them!). I have to admit I had an ulterior motive – I wanted to make my own frozen yogurt, but couldn't decide on what flavor to make.
But let's be real – as much as I loved hearing your diverse list of favorites, 60 more ideas didn't really help me or my poor decision making skills!
So I scratched that and went back to the drawing board, thinking of flavor combos that have been particularly popular on the blog…and I kept coming back to one that I've done a couple of times: salted caramel mocha. First I made a homemade salted caramel mocha, then used the delicious flavor combo to make mini salted caramel mocha cheesecakes. (Plus there have been tons of other salted caramel recipes, including many with chocolate, in between.)
I got to thinking…could my easy 7 minute salted caramel be mixed into homemade frozen yogurt? I love ice cream that has stuff in it. From candy bits to ribbons of caramel, I love it all. Making my own version of frozen yogurt with ribbons of creamy salted caramel throughout it just sounded heavenly. Decision made!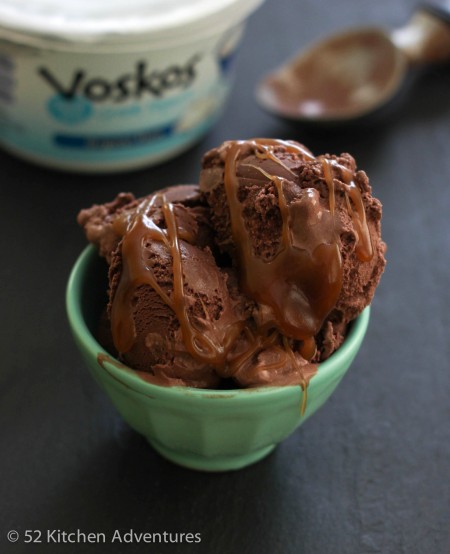 I used original Voskos Greek Yogurt (c'mon, it's dessert…let's just indulge!), but I'm sure you could make this with their non-fat version as well. Since Greek yogurt is so thick, it will probably be pretty creamy, just not quite as good as the regular. There are another way you can vary the frozen yogurt too – add more or less milk depending if you'd rather a texture more like ice cream or soft serve.
Whether you want to use full fat, non fat, more milk or less, the flavor is a rich mocha that is just barely sweet enough. The tangy flavor of the Greek yogurt comes through, which prevents the frozen yogurt from being tooth-achingly sweet. You can always add more sugar, but I like having the rich, tangy flavor – I like to think of it as a grown-up ice cream.
See how to make the layers of caramel ribbon below and get the recipe right after that. For more great Greek yogurt recipes, visit the Voskos Greek Yogurt Facebook page.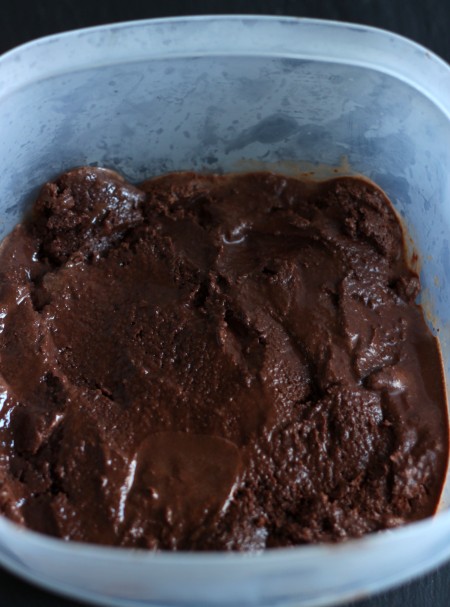 1. Prepare your frozen yogurt, then spread a layer of it into the bottom of a tupperware container.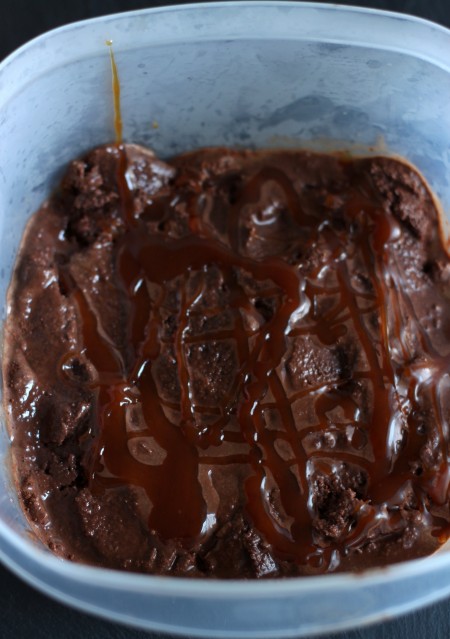 2. Drizzle salted caramel all over it. Add another layer of frozen yogurt and repeat.
Salted Caramel Mocha Frozen Greek Yogurt
Use 1/2 cup of milk for more of a soft serve consistency – but be forewarned, it won't freeze quite as stiff and will melt a bit faster.
Ingredients
16 oz. original Voskos Greek Yogurt
1/4 cup of milk (I recommend whole milk)
2/3 cup unsweetened cocoa powder
3 to 4 tablespoons instant coffee
1 to 1 1/2 cups sugar
1 batch of easy salted caramel or store bought salted caramel sauce
Instructions
Scoop yogurt into a large mixing bowl. Beat with whisk until smooth and creamy.
Place milk in a medium microwaveable bowl. Briefly heat in microwave until lukewarm.
Add cocoa, 3 tablespoons of instant coffee, and 1 cup of sugar to milk. Stir vigorously until everything is combined, then add to yogurt.
Whisk everything together until well combined. Taste and add additional instant coffee or sugar to taste.
Place bowl in fridge for 10 minutes, then pour mixture into your ice cream maker and follow manufacturer's instructions.
In the meantime, prepare easy salted caramel and refrigerate until cool.
Once ice cream maker is finished, remove from freezer. Use a spatula or spoon to scoop a layer of frozen yogurt into a tupperware container. Press into the bottom of the container, creating a flat layer. Drizzle caramel sauce all over, then add another layer of frozen yogurt and repeat until you use up all the frozen yogurt. Place in freezer until ready to serve.
http://www.52kitchenadventures.com/2013/04/02/salted-caramel-mocha-frozen-yogurt/
This is a sponsored conversation written by me on behalf of Voskos Greek Yogurt. The opinions and text are all mine.