Edited 10/1/13: Instead of the caramel syrup listed below, you could also use my 7 minute salted caramel, which is incredibly easy and quick to make.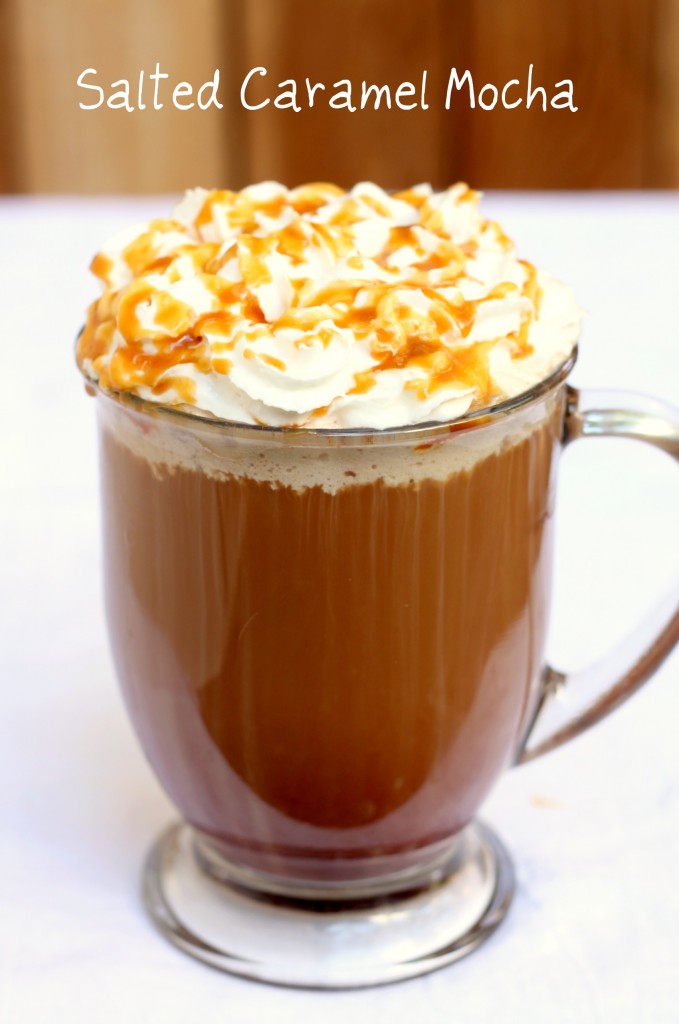 Salted caramel has been a big trend for a while. I'm all for jumping on a bandwagon if it's a delicious one, and it doesn't get better than sweet and salty in one package. A while ago I made this wonderful salted caramel cupcakes recipe and on Friday I'll share my recipe for salted caramel pears (like caramel apples, but with pears and a sprinkle of sea salt).
Starbucks has had a set of salted caramel beverages on its menu this fall but have you seen how many calories is in one of those things? They range from something like 300-600 calories, but the sugar content is what really made me pause (50-70 grams!). Now, you could skip dessert and have one of these instead (my coworker actually calls them "dessert in a cup"). But at $4-5, it's one expensive drink and still a lot of sugar in one sitting.
Instead, let's just make our own! That way you can control all the ingredients and adjust the amount of sugar to your taste, plus save a lot of money. I don't know about you, but even my massive sweet tooth can't handle that kind of sweetness in one cup – I tried a short size (smaller than a tall) and could feel the sugar rush. I created recipes using either coffee or espresso, so no matter what your setup at home you can make a (better) version of Starbucks salted caramel mocha.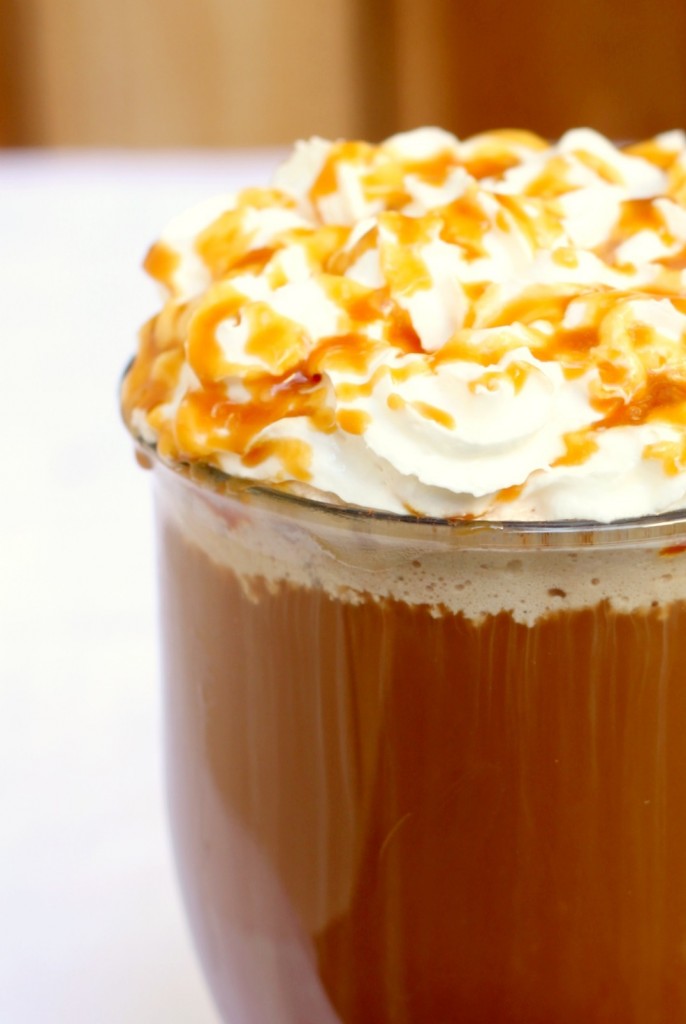 If you don't drink coffee, you can omit the coffee/espresso, add more milk and make yourself a salted caramel hot chocolate. Either way, these drinks are rich, decadent and a nice balance of sweet with a hint of salty. Plus, you'll save $5 – treat yourself to something else instead!
I've made two other homemade versions of Starbucks drinks in the past: homemade pumpkin spice latte recipe and homemade frappuccino recipe. I love making homemade versions of store bought foods like this (and Goldfish, Funfetti cake, Hostess cupcakes, chocolate syrup, etc.). What would you like to see me make next?
Recipe:
Homemade Salted Caramel Mocha
1 shot of espresso or 3/4 cup coffee
1 1/2 – 2 tablespoons caramel sauce (see recipe below)
1-2 tablespoons cocoa powder (the hot chocolate kind, not the unsweetened baking kind – I used Archer Farms dark chocolate cocoa and loved it)
Pinch of sea salt (Starbucks uses a blend of smoked sea salt and turbinado sugar for sprinkling on top)
1/2 cup milk
Whipped cream (optional)
Extra caramel sauce and sea salt to drizzle/sprinkle on top
With an espresso maker:
Prepare espresso. Place caramel sauce, cocoa powder and sea salt in a mug and pour espresso over them. Froth milk and slowly pour into mug, stirring to combine everything. Taste and add more caramel, cocoa and/or salt to taste. Top with whipped cream, drizzle caramel sauce, and a tiny pinch of sea salt.
Without an espresso maker:
Prepare coffee. Place caramel sauce, cocoa powder and sea salt in a mug. Pour coffee into mug, stirring to combine everything. Heat milk in microwave or on the stove and add to mug, stirring everything to combine. Taste and add more caramel, cocoa and/or salt to taste.  Top with whipped cream, caramel sauce and a tiny pinch of sea salt.
Salted Caramel Syrup (edited to add: OR try this easy 7 minute salted caramel recipe)

Makes enough for around 3-4 salted caramel mocha or hot chocolate beverages
1/2 cup sugar
3 tablespoons salted butter, cubed

1/4 cup heavy cream, at room temperature
In a medium saucepan, cook the sugar over medium heat, stirring occasionally with a spatula (if it becomes lumpy, reduce heat and refrain from stirring). When it turns a deep amber color, add the butter and stir until it is melted. Add the heavy cream and whisk until the caramel is smooth (be careful, it will bubble up when you add the cream). Remove from heat and let cool. Refrigerate extra syrup.