Welcome to #CookieWeek! Susan of The Girl In The Little Red Kitchen and Kim of Cravings of a Lunatic have joined together this week with 23 of their blog friends to present to you a week of cookie treats! We have every type of cookie you can think of listed this week, including something for our furry friends. Now is the time to bookmark these recipes for the upcoming holidays and cookie swaps or simply visit our Pinterest board.  Make sure you enter the giveaway below with some fabulous prizes from KitchenAid, King Arthur Flour, OXO,Silpat and Zulka Pure Cane Sugar to help with your cookie making needs!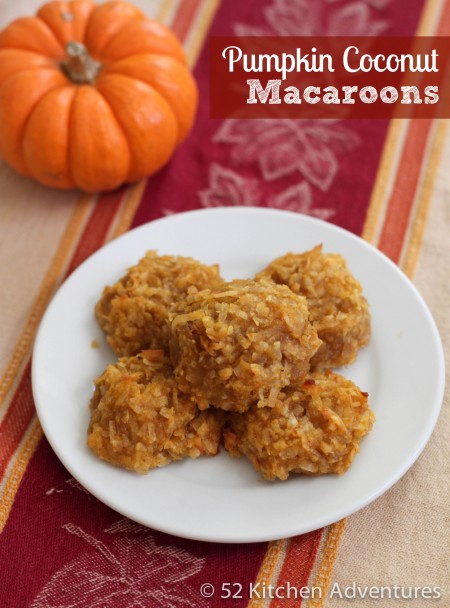 Hi everyone! I'm so excited to be posting this recipe today. I got married 3 weeks ago and between getting everything ready for our amazing wedding (more on that later), going away for a week, and catching up on life, I haven't had a chance to bake or blog in a long time. I missed being in the kitchen and chatting with you guys!
I finally got back into the kitchen and baked a ton over the last week. In honor of Cookie Week I'll be sharing 3 cookie recipes with you throughout this week. And even better, 22 other bloggers are doing the same thing. That is a lot of cookies! I hope you're ready to start getting into holiday baking – we have a ton of inspiration for you this week!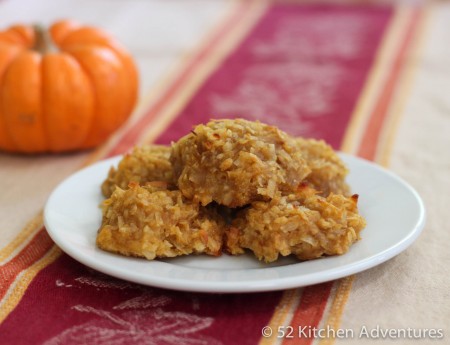 The cookies I'm sharing today are pretty special. They're everything that is amazing about macaroons (the chewy coconut cookies, not to be confused with French macarons like these Nutella macarons), PLUS pumpkin. As most of us know, pumpkin makes pretty much everything better. Besides adding great flavor, it makes baked goods moist as well. In this case, you get soft, chewy, pumpkin pie-esque macaroons.
Basically, if you like macaroons (or coconut) and pumpkin, these are your new favorites. I wasn't quite sure how the pumpkin flavor would get along with the coconut, but I should never have doubted pumpkin – it gets along great with others. I love pairing pumpkin with chocolate too (like these pumpkin chocolate chip blondies or pumpkin spice mocha), which isn't the most obvious pair either. In fact, I bet drizzling these pumpkin coconut macaroons in chocolate would be phenomenal!
This is getting me thinking…what else goes well with pumpkin? I'm going to consult my Flavor Bible and see what else I can come up with! For now, check out this awesome pumpkin coconut macaroon recipe below, and make sure to scroll down a little further to find out about the Cookie Week giveaway!
Pumpkin Coconut Macaroons
Ingredients
Ingredients:
1/3 cup sugar
1 large egg white
1 1/2 cups shredded coconut
1/4 cup toasted pecans, roughly chopped
1/4 cup pumpkin puree (not pumpkin pie)
1/2 teaspoon vanilla extract
3/4 teaspoon pumpkin pie spice
1/4 teaspoon salt
Instructions
Preheat oven to 350°F. Line a baking sheet with parchment paper or a baking mat.
In a large bowl, whisk sugar and egg white together.
Add coconut, pecans, pumpkin, vanilla, pumpkin pie spice and salt to bowl. Stir until everything is well incorporated.
Use a spoon or cookie scoop, scoop dough into balls* the size of 1 to 1 1/2 tablespoons. Place on the prepared baking sheet an inch apart.
Bake for around 10 minutes, or until the macaroons are golden brown on the bottom and edges. The bigger the macaroons, the longer it will take.
Notes
*Traditionally, macaroons are slightly dome shaped, so you can shape them like this by hand if you prefer
Recipe from Make it Naked
http://www.52kitchenadventures.com/2013/11/11/pumpkin-coconut-macaroons/
In addition to the dozens of awesome cookie recipes we have for you this week, we also have an amazing  giveaway lined up this week thanks to our fabulous sponsors, KitchenAid, OXO, King Arthur Flour, Silpat and Zulka Pure Cane Sugar!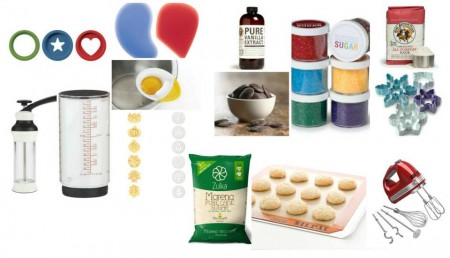 Four lucky winners will win one of the following:
Prize #1: 1 (one) KitchenAid 9-Speed Hand Mixer plus 1 (one) 4lb bag of  Zulka Pure Cane Sugar
Prize #2: 1 (one) OXO gift set including the following:  1 (one) 3-in-1 Egg Separator, 1(one) Cookie Press, 1(one) Autumn Cookie Disk Set, 1(one) 3 piece Cookie Cutter Set, 1(one) Bowl Scraper, 1(one) 2 Cup Adjustable Measuring Cups
Prize #3: 1 (one) King Arthur Flour gift set including the following: 1(one) King Arthur Unbleached All Purpose Flour -5lb bag, 1(one) Snowflake Cookie Cutter Set, 1(one) King Arthur Flour Pure Vanilla Extract, 1(one) Sparkling Sugar Collection, 1(one) Semi-Sweet Chocolate Wafers – 16oz and 1(one) 4lb bag of Zulka Pure Cane Sugar
Prize #4: 1 (one) Silpat Halfsize Mat and 1(one) 4lb bag Zulka Pure Cane Sugar
This giveaway is open to US residents from November 11, 2013 through November 16, 2013 11:59pm EST and will be picked from random draw.  The winners will be notified via email and have 72 hours to respond, if not their prize is forfeited and another winner will be chosen.
How to Enter:
Mandatory Entry: Leave a comment with  your favorite cookie to bake during the holidays or for cookie swaps.
Many more ways to enter in the rafflecopter widget!
a Rafflecopter giveaway

A little about our sponsors:
The iconic Kitchenaid stand mixer was born in 1919, from there stemmed an entire kitchen of  high-performance appliances -all created with the same attention to detail and quality. OXO's mission is dedicated to providing innovative consumer products that make everyday living easier. King Arthur Flour was founded in 1790, as America's oldest flour company they provided pure, high-quality flour to residents of the newly formed U.S., still going strong, they are the nation's premier baking resource. Silpat was founded in 1965 by M Guy Demarle in Northern France.  He was an experience baker seeing a better way to bake bread with forms using non-stick silicone coatings.  He invented the first non-stick baguete baking trays and a few  years later invented  and created the original Silpat. Zulka Pure Cane Sugar is a Non GMO Project Verified "Morena" sugar – a term used to described granulated sugars that do not undergo conventional refining processes.  Zulka is perfect for baking, it tastes better, is less processed and is a cup for cup replacement.
Check out the other Cookie Week posts today:
Disclaimer: KitchenAid, OXO, King Arthur Flour, Silpat and Zulka Pure Cane are providing the prizes free of charge.  All opinions stated are my own.