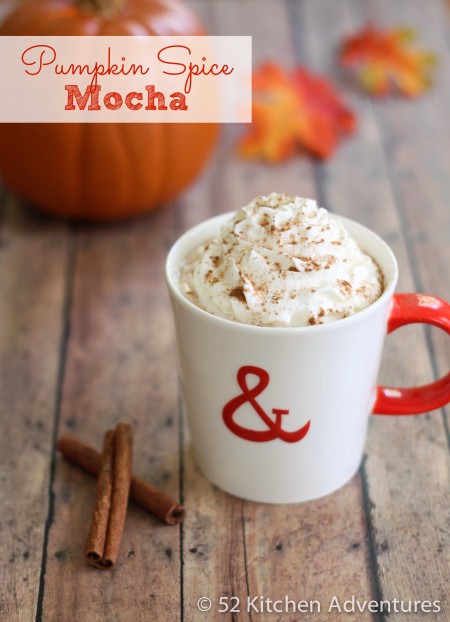 It's the first day of autumn, which means one thing in the food world: it's pumpkin time! Not only are actual pumpkins in season, but pumpkin flavored items are taking over the food blog world and the real world. I've seen everything from pumpkin macarons to pumpkin spice coffee beans to pumpkin hard cider to pumpkin croissants at the grocery store (these were all at Trader Joe's if you're wondering).
Plus, of course, there is the influx of pumpkin spice drinks at all of the coffee shops. Pumpkin spice lattes are a staple of autumn, and recently I spied a pumpkin chai latte, but I'm always surprised there aren't pumpkin chocolate drinks up on the menu too.
I love pairing pumpkin and chocolate (these pumpkin blondies and pumpkin cookies are 2 delicious examples). I guess it isn't a really obvious flavor pairing, but they go really well together. Way back in my first year of blogging, I made a homemade version of pumpkin spice latte, so I took that and doctored it up with some hot cocoa, and woah! Pumpkin spice mocha, where have you been all my life?!
Rather than use the fake-tasting sugary syrup that most coffee shops utilize to flavor pumpkin drinks, this one uses actual pumpkin puree. Grab a can of pumpkin and whip up some of these delicious pumpkin spice mochas instead of your boring cup of coffee. They only use a little pumpkin, but here are 50 ways to use up your leftover pumpkin so it doesn't go to waste.
Tell me – what are you most looking forward to this season?
Ingredients
1/2 cup strong coffee
1/2 cup milk
2 tablespoons pumpkin puree
1 1/2 tablespoon sweetened cocoa powder
1 teaspoon pumpkin pie spice
Whipped cream (optional)
Instructions
Combine coffee, milk, pumpkin, spices, and cocoa in a small saucepan over medium heat. Whisk together and heat until warm and flavors are combined.
Pour into a mug and add whipped cream if desired.
http://www.52kitchenadventures.com/2013/09/22/pumpkin-spice-mocha/