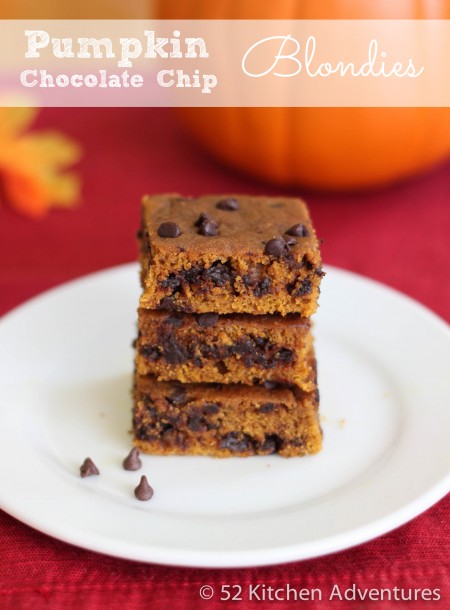 Hello September! I am so ready for fall. I already had my first pumpkin latte, pulled out some fall decorations, and opened my first can of pumpkin. Autumn is my favorite season, and the fact that I'm getting married this October is probably helping me feel this way already this year (eek, only 6 more weeks!).
In addition to being the kick-off for fall, September is also Childhood Cancer Awareness Month. OXO is getting ready for their annual program benefitting Cookies for Kids' Cancer and for every stickered item sold, they will donate 25 cents in support of pediatric cancer research as part of its $100,000* pledge to Cookies for Kids' Cancer. They asked a group of bloggers to get involved too – by sharing my best brownie recipe, they will be donating $100.
Over the summer, I discovered my favorite fudgy brownies recipe, and went a little crazy putting it into cookie dough brownie bars, the ultimate brownie sundae, and brownie ice cream sandwiches. Since I already did so much so recently with traditional chocolate brownies, I knew this OXO challenge called for something new and different. So when I spotted a can of pumpkin in my cabinet last week, I couldn't resist opening it up and making some of the first pumpkin treats of the season. (Note to self: always save a can or 2 of pumpkin at the end of winter.)
Besides the flavor, the great thing about baking with pumpkin is everything comes out so moist. These blondies are chewy, moist, and have a healthy dose of pumpkin and pumpkin spice flavor. The addition of mini chocolate chips gives just the right amount of chocolate that enhances the pumpkin flavor without overwhelming it. I love putting chocolate and pumpkin together – they're just meant to be!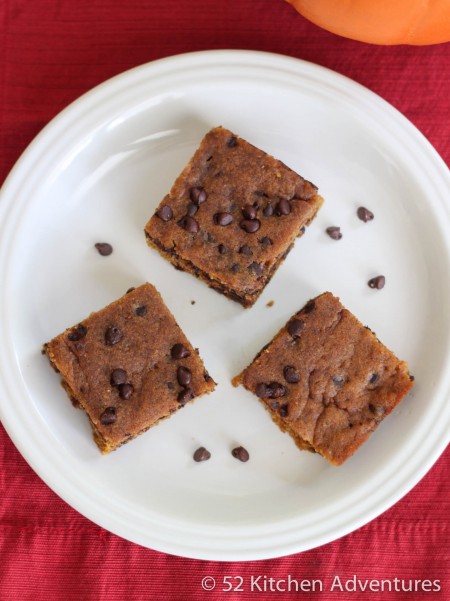 Pumpkin Chocolate Chip Blondies
Ingredients
6 tablespoons coconut oil (if you don't have coconut oil, you can use softened butter)
1/2 cup packed brown sugar
1 teaspoon vanilla
1 egg
1/2 cup pumpkin puree
3/4 cup + 2 tablespoons all purpose flour
1 teaspoon cinnamon
1 teaspoon pumpkin pie spice
1/2 teaspoon baking soda
1/8 teaspoon salt
1/2 cup mini chocolate chips
Instructions
Preheat oven to 350°F. Lightly coat an 8×8 pan with non-stick spray.
In a large bowl, beat coconut oil and sugar together. Add egg, vanilla, and pumpkin to the bowl and mix until well combined.
In a medium bowl, combine flour with spices, baking soda, and salt. Add to wet ingredients and stir until just combined.
Add mini chocolate chips to bowl and stir to combine.
Pour batter into prepared pan and spread into even layer. Bake 15-20 minutes, or until a toothpick inserted in the center comes out clean. Let cool, then cut into squares and serve.
Notes
http://www.52kitchenadventures.com/2013/09/01/pumpkin-chocolate-chip-blondies/
OXO provided me with a set of brownie tools and will donate $100 to Cookies for Kids' Cancer for each blog post dedicated to this campaign in September, but as always all opinions and text are my own.