Welcome to #cookieweek, post #3! Susan of The Girl In The Little Red Kitchen and Kim of Cravings of a Lunatic have joined together this week with 23 of their blog friends to present to you a week of cookie treats! We have every type of cookie you can think of listed this week, including something for our furry friends! Now is the time to bookmark these recipes for the upcoming holidays and cookie swaps or simply visit our Pinterest board!  Make sure you enter the giveaway with some fabulous prizes from KitchenAid, King Arthur Flour, OXO,Silpat and Zulka Pure Cane Sugar to help with your cookie making needs!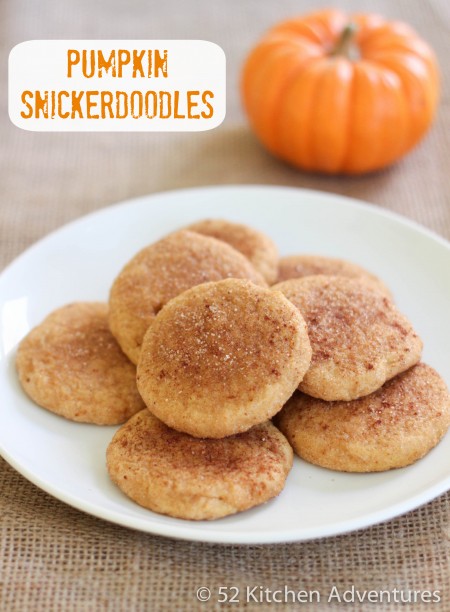 Cookie Week is sadly coming to a close. Check out my other 2 cookie recipes from the week: pumpkin coconut macaroons and Samoa macaroons (hmm…one of these things is not like the others!).
It's not too sad though – the Great Food Blogger Cookie Swap is coming up, not to mention the holiday season, so I already have 2 more delicious cookie recipes lined up for the blog soon. Have you started thinking about holiday baking yet? It's almost Thanksgiving, as hard as it is to believe, and before we know it, it'll be time for Christmas cookies!
For now, we can pretend it's still autumn and the holiday season is far away if you want. These pumpkin cookies can trick you into thinking it's still October if you're not ready for the holidays yet. Even if you don't care, you should still try these. Think classic snickerdoodles -soft, lightly spiced cookies, coated in cinnamon sugar, giving them a slightly crunchy coating- and add in pumpkin.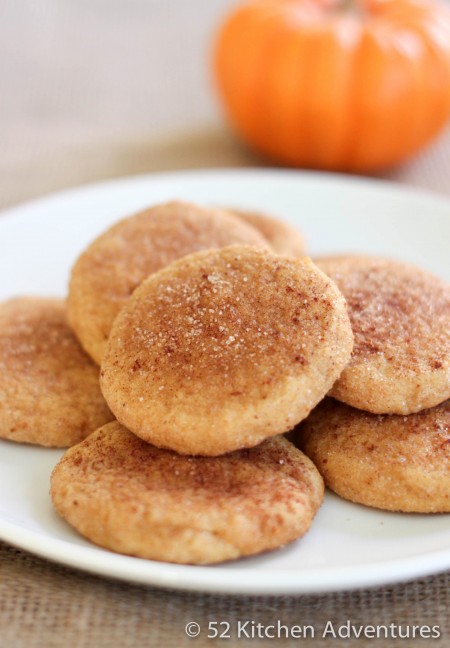 This isn't the first flavor combo that comes to mind, but it makes a lot of sense. Pumpkin spice and snickerdoodle spice are similar, and adding pumpkin puree just adds another dimension of flavor. After trying these and the pumpkin coconut macaroons, I'm truly starting to think that pumpkin makes everything better!
Ingredients
For cookies:
1 cup unsalted butter, at room temperature
1 cup sugar
1/2 cup light brown sugar
3/4 cup pumpkin puree
1 large egg
2 teaspoons vanilla extract
3 3/4 cups all-purpose flour
1 1/2 teaspoons baking powder
1/2 teaspoon salt
1/2 teaspoon pumpkin pie spice
For coating:
1/2 cup sugar
2 teaspoons pumpkin pie spice
Instructions
In a large bowl, beat butter until fluffy, then add both sugars and pumpkin and beat until combined.
Add egg and vanilla to mixture and stir until incorporated.
In a separate bowl, combine flour, baking powder, salt, and pumpkin pie spice.
Gradually add flour mixture to wet ingredients, stirring until just incorporated.
Cover dough and place in refrigerator for at least 1 hour (or until dough becomes slightly firm).
Preheat oven to 350°F and line baking sheets with parchment paper or Silpat baking mat.
Mix coating ingredients together in a small bowl. Remove dough from refrigerator and use a spoon or cookie scoop to scoop out 1 to 1 1/2 tablespoons of dough. Roll dough into a ball with your hands, then roll ball in sugar-spice coating mixture. Place on the prepared baking sheet 2 inches apart. Use a flat bottomed glass to flatten the dough balls.
Bake for 10-14 minutes, or until cookies are slightly firm to the touch.
Notes
http://www.52kitchenadventures.com/2013/11/16/pumpkin-snickerdoodles/