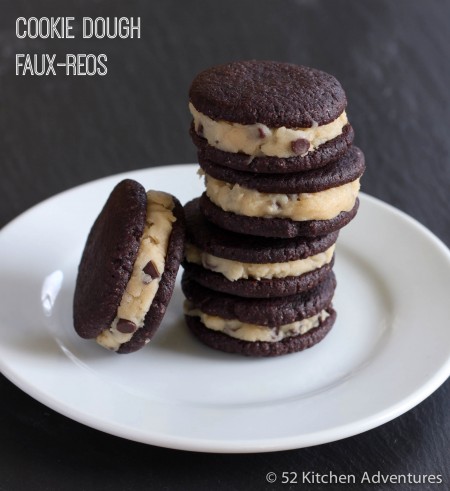 By now, you've probably heard about the new Oreo flavors coming out next week. Instead of the normal filling, one of them is filled with cookie dough and the other has a crispy marshmallow filling. Yes, cookie dough IN a cookie. I've seen Oreos stuffed into baked chocolate chip cookies but this is an even simpler way to enjoy both Oreos and chocolate chip cookies at once. Bonus: raw cookie dough, which everyone knows is 10 times better than a baked cookie!
I couldn't wait to try the cookie dough Oreos, plus I don't really like to buy junk food, so I took their genius idea and made my own! I figure that at least by making your own junk food, you can control what goes into it (here are a bunch of my homemade junk food recipes if you're interested). Besides, I heard that the cookie dough Oreos taste like mocha/coffee. I can guarantee you that my version of DIY Cookie Dough Oreos tastes like chocolate cookies and chocolate chip cookie dough.
Before we get to this awesome recipe though, I have to tell you about another exciting thing that happened this week…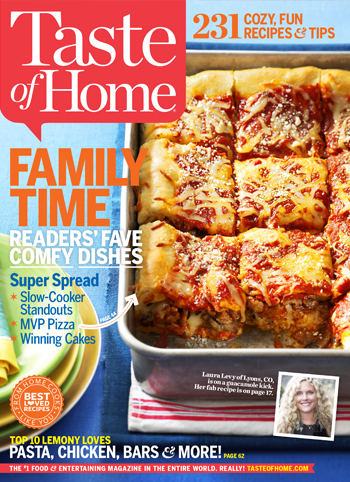 You know Taste of Home magazine? Their February/March issue just came out. It's filled with tons of great recipes and some Valentine's ideas. Get your hands on an issue and flip to page 60 and you may just see a familiar face…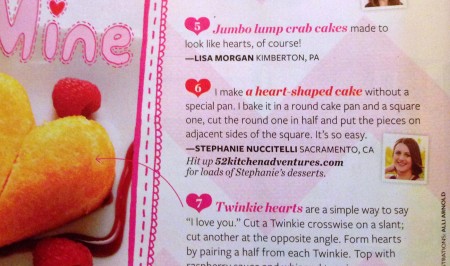 There's me! Taste of Home spotted my post on how to make a heart shaped cake (without a heart shaped pan) and included it in The Tasty 10 this issue. It's so exciting to see my name and face in not only a national magazine, but one I actually subscribe to!
Okay, back to what you really want to hear about – DIY cookie dough faux-reos! The recipe may look somewhat intense, but it's really not hard. The cookie dough is a really simple one-bowl recipe (without egg, so it's safe to eat raw). The faux-reos require measuring and flattening the dough, but that's the hardest and most time-intensive part. Then you just pair them up, spoon some cookie dough between them, and make the most delicious little cookie sandwich ever.
If you want the cookies to be nice and crisp like actual Oreos, make them on the thinner side. I actually liked them a tad thicker, which made them softer and chewier, but you can make them however you like. The cookie dough filling is classic chocolate chip – need I say more? Together, you get a rich chocolate cookie with chewy, yummy cookie dough in every bite. I'm not gonna lie – these are dangerous. They may have mysteriously disappeared from my kitchen in less than 2 days. You won't want to share them!
Homemade Cookie Dough Oreos
If you want to have a lot of filling, I recommend doubling the cookie dough recipe. You'll probably have extra but I don't think that's a bad problem to have.
Ingredients
Faux-reos:

1 cup + 2 tablespoons granulated sugar
3/4 cup butter, at room temperature
1/2 teaspoon salt
1 teaspoon espresso powder (optional)
1 large egg
1 tablespoon cold water
1 teaspoon vanilla extract
1 1/2 cups all-purpose flour
3/4 cup black cocoa or Dutch-process cocoa

Cookie Dough Filling:

4 tablespoons unsalted butter, melted
1/4 cup packed brown sugar
2 tablespoons white sugar
2 tablespoons milk (I used almond milk, but any kind of milk will work)
1 teaspoon vanilla extract
1/4 cup mini chocolate chips
3/4 cup all-purpose flour
1/8 teaspoon salt
Instructions
Make the faux-reos:

Preheat the oven to 325°F. Line 2 or 3 baking sheets with parchment paper.
In a large bowl, beat the sugar, butter, salt, and espresso powder together.
Mix in the egg, water, and vanilla.
Add in the flour and cocoa, mixing until just incorporated. (Note: the dough will be stiff.)
Scoop out 2 level teaspoons of dough and roll into a ball (the balls should be small, around the size of a chestnut). Continue rolling small, evenly sized balls of dough, spacing them around 1 1/2″ to 2″ apart on the prepared baking sheets.
Using a glass with a flat bottom, first dip it in cocoa powder to prevent sticking and then flatten dough balls to about 1/8″ to 3/16″ thick (I just pushed the glass down as long as I could).
Bake the cookies for 18-20 minutes. (If you start to smell scorching chocolate before the time is up, take them out.)
In the meantime, make the

Cookie Dough Filling:

In a medium bowl, beat together the butter, sugars, milk, and vanilla.
Add the flour and salt and stir until just incorporated. Stir in the mini chocolate chips.
Refrigerate for 15-20 minutes, or until the dough is firmer but still malleable.

Assemble the cookies:

Pair up faux-reo cookies of similar sizes.
Add a teaspoon of cookie dough to the inside of one cookie, and then push its pair on top until the dough spreads in between them (if the dough is too stiff, you can leave it on the counter until it reaches room temp).
Continue until you finish assembling all of your cookie dough faux-reos, then enjoy immediately or place in air-tight container and refrigerate.
Notes
Faux-reos recipe from King Arthur Flour
http://www.52kitchenadventures.com/2014/01/27/homemade-cookie-dough-oreos/