Update 9/9/14: Oreo has released a pumpkin spice flavor and apparently it tastes like a Yankee candle. My homemade version is pretty much guaranteed to be better 😉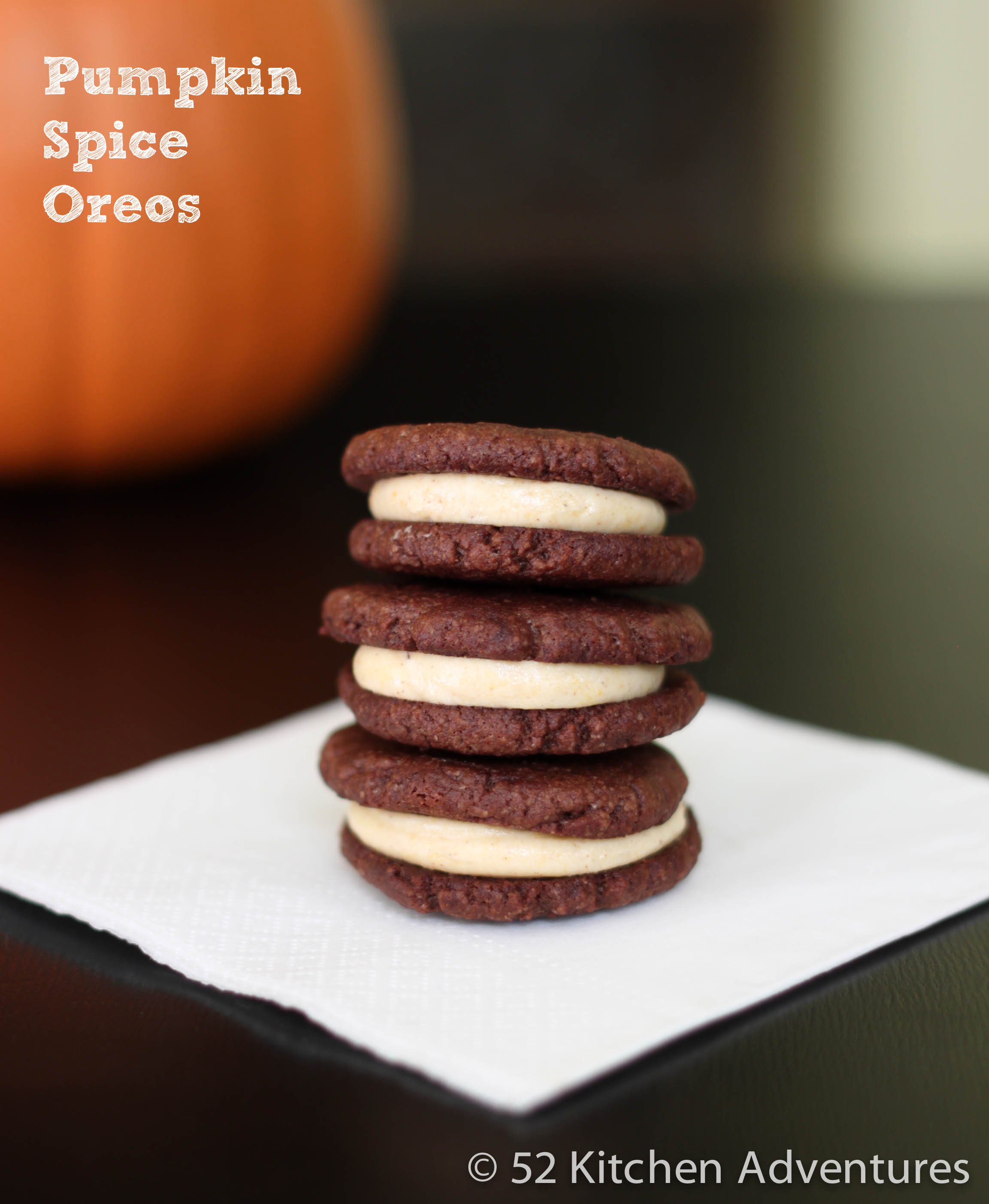 There have been rumors swirling around that Oreo may be releasing a pumpkin spice flavor this fall. Whether they are or aren't, I have no idea, but I do know that homemade versions are always better and this was an awesome flavor idea, so I made my own DIY Pumpkin Spice Oreos!
This isn't the first time I made a DIY Oreo recipe – earlier this year I made homemade cookie dough Oreos when that flavor was first released. I love combining chocolate and pumpkin (if you love it too, try my pumpkin spice mocha or pumpkin chocolate chip blondies), so putting pumpkin spice filling into a chocolate cookie sandwich sounded like a genius idea. The key was to figure out what kind of filling to make – something thick enough to hold up in a cookie sandwich, but with pumpkin and pumpkin spice flavor.
The winner was a buttercream flavored with a little pumpkin puree and pumpkin spice. To get the right thickness, you have to refrigerate these, otherwise the filling is too runny.  Once they're chilled, they are perfect: crunchy chocolate cookie with a creamy pumpkin spice filling. Also, if you can get your hands on black or super dark cocoa powder, you can even achieve the right color for knock-off Oreos (I only had regular on hand, so mine were dark brown instead).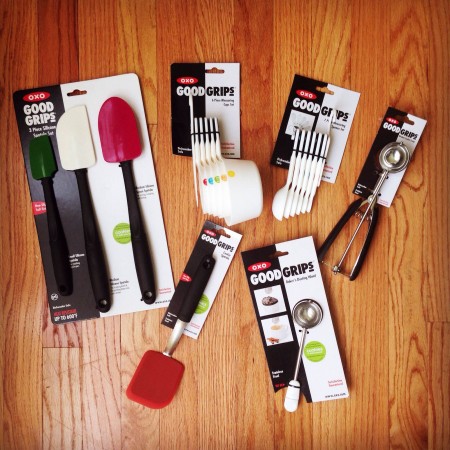 In addition to being a great cookie for September, the kick-off of autumn, these are also a special tribute to Childhood Cancer Awareness Month. OXO is getting ready for their annual program benefitting Cookies for Kids' Cancer and they asked me to participate. They sent me a care package (the cookie tools shown above) and are pledging a $100 donation in honor of this cookie recipe. You can help too – for every specially marked item sold, they will donate 25 cents in support of pediatric cancer research as part of their $100,000* pledge to Cookies for Kids' Cancer. Look for the lime green Cookies for Kids' Cancer sticker on OXO products to participate.
P.S. If you need some ideas for using up the remainder of your pumpkin, here are 50 ways to use up leftover pumpkin puree.
Ingredients
Faux-reos:

1 cup + 2 tablespoons granulated sugar
3/4 cup butter, at room temperature
1/2 teaspoon salt
1 teaspoon espresso powder (optional)
1 large egg
1 tablespoon cold water
1 teaspoon vanilla extract
1 1/2 cups all-purpose flour
3/4 cup black cocoa or Dutch-process cocoa

Pumpkin Spice Filling:

1/2 cup butter, softened
1/2 teaspoon pumpkin pie spice
1/2 teaspoon vanilla extract
1 1/4 cup powdered sugar
1 tablespoons pumpkin puree
Instructions
Make the faux-reos:

Preheat the oven to 325°F. Line 2 or 3 baking sheets with parchment paper.
In a large bowl, beat the sugar, butter, salt, and espresso powder together.
Mix in the egg, water, and vanilla.
Add in the flour and cocoa, mixing until just incorporated. (Note: the dough will be stiff.)
Scoop out 2 level teaspoons of dough and roll into a ball (the balls should be small, around the size of a chestnut). Continue rolling small, evenly sized balls of dough, spacing them around 1 1/2″ to 2″ apart on the prepared baking sheets.
Using a glass with a flat bottom, first dip it in cocoa powder to prevent sticking and then flatten dough balls to about 1/8″ to 3/16″ thick (I just pushed the glass down as long as I could).
Bake the cookies for 18-20 minutes. (If you start to smell scorching chocolate before the time is up, take them out.)
In the meantime, make the

Pumpkin Spice Filling:

In a large bowl, beat the softened butter for a minute. Mix in pumpkin pie spice and vanilla extract.
Add powdered sugar and beat until thoroughly combined, then mix in pumpkin puree.
Taste filling and add more pumpkin pie spice, powdered sugar, or pumpkin puree to taste. If filling is very soft, refrigerate for 15 minutes before filing cookies.

Assemble the cookies:

Pair up faux-reo cookies of similar sizes.
Pipe or spoon a dollop of filling onto one cookie and then push its pair on top until the dough spreads in between them (if the dough is too soft, you can refrigerate for longer).
Continue until you finish assembling all of your cookie dough faux-reos. Place in an air-tight container and refrigerate for an hour or two, until filling is firm, then enjoy.
http://www.52kitchenadventures.com/2014/09/09/diy-pumpkin-spice-oreos/
For every stickered item sold, 

OXO

 will donate 25 cents in support of pediatric cancer research as part of its $100,000* pledge to Cookies for Kids' Cancer. Look for specially marked 

OXO

 products at participating retailers in September.
* In 2014, 

OXO

 will donate up to $100,000 to Cookies for Kids' Cancer through specially marked baking tools, bake sale matches and other fundraising efforts. Cookies for Kids' Cancer is a recognized 501c(3) public charity duly incorporated under the laws of the state of New Jersey. Your donations are tax deductible to the fullest extent allowable by law. 100% of proceeds raised by Cookies for Kids' Cancer fund pediatric cancer research.