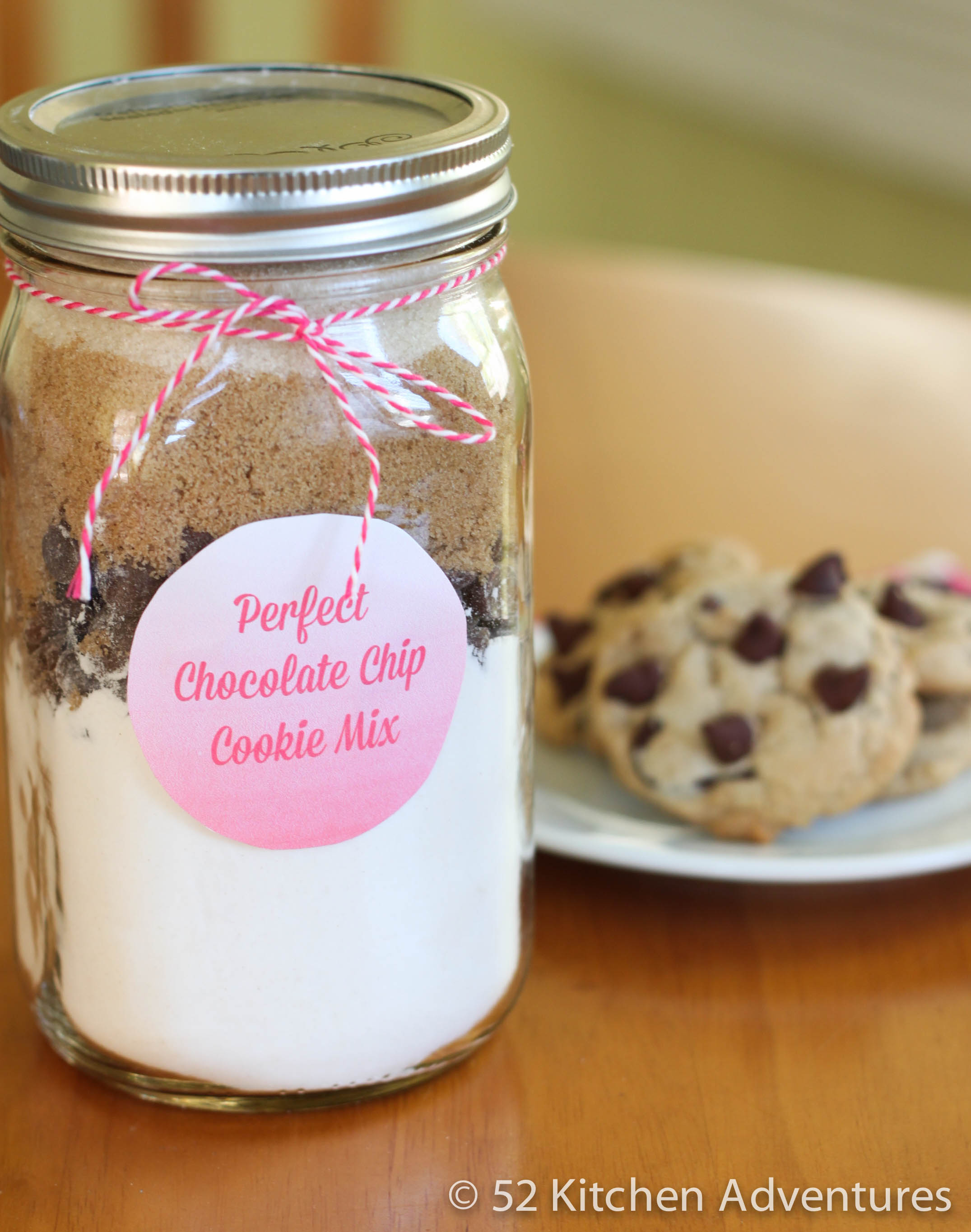 Do you want to give the gift of delicious cookies without all the work of making them? You're in the right place! Last week I taught a holiday DIY class at West Elm in Roseville, CA. We made cookie mix in a Mason jar, but not just any cookie mix – I adapted my favorite cookie recipe: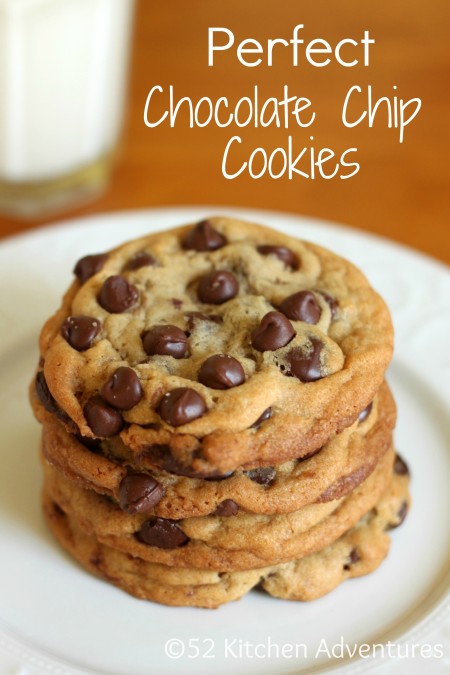 After several trials, I figured out the perfect amount to fit a half batch of these perfect chocolate chip cookies into a large Mason jar. All you have to do is layer a few ingredients in a jar, attach a label and tag with baking directions, and it's ready to gift as a hostess or holiday gift. Then your friend or family can make 2 dozen of these awesome cookies whenever they want! Pretty great, right?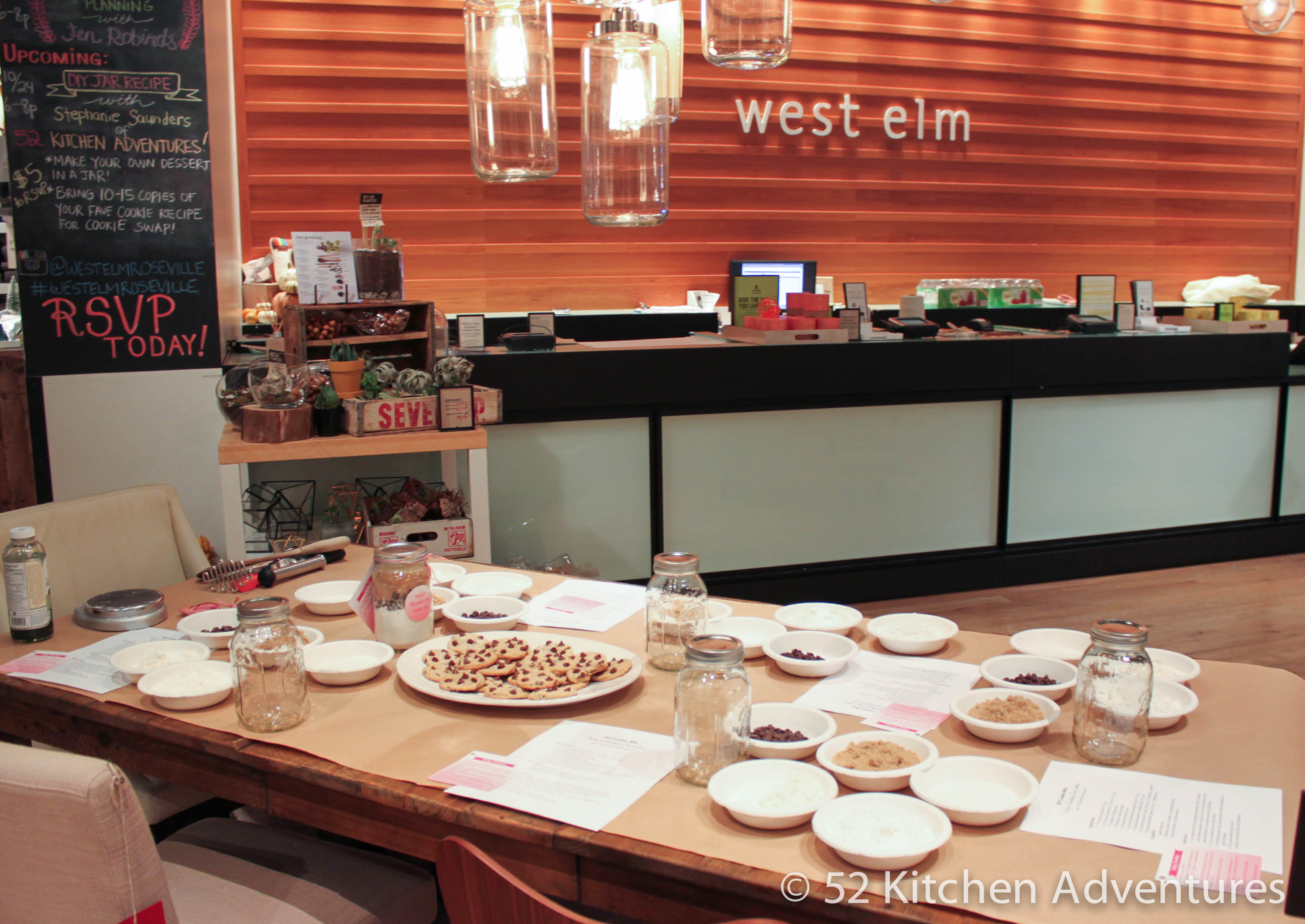 Before I get to the recipe, let's chat a little about the cookie mix making party. This would be a fun event to host during the holidays! Invite some friends over, ask them each to bring one ingredient, get some wine, and you can all make some gifts while hanging out.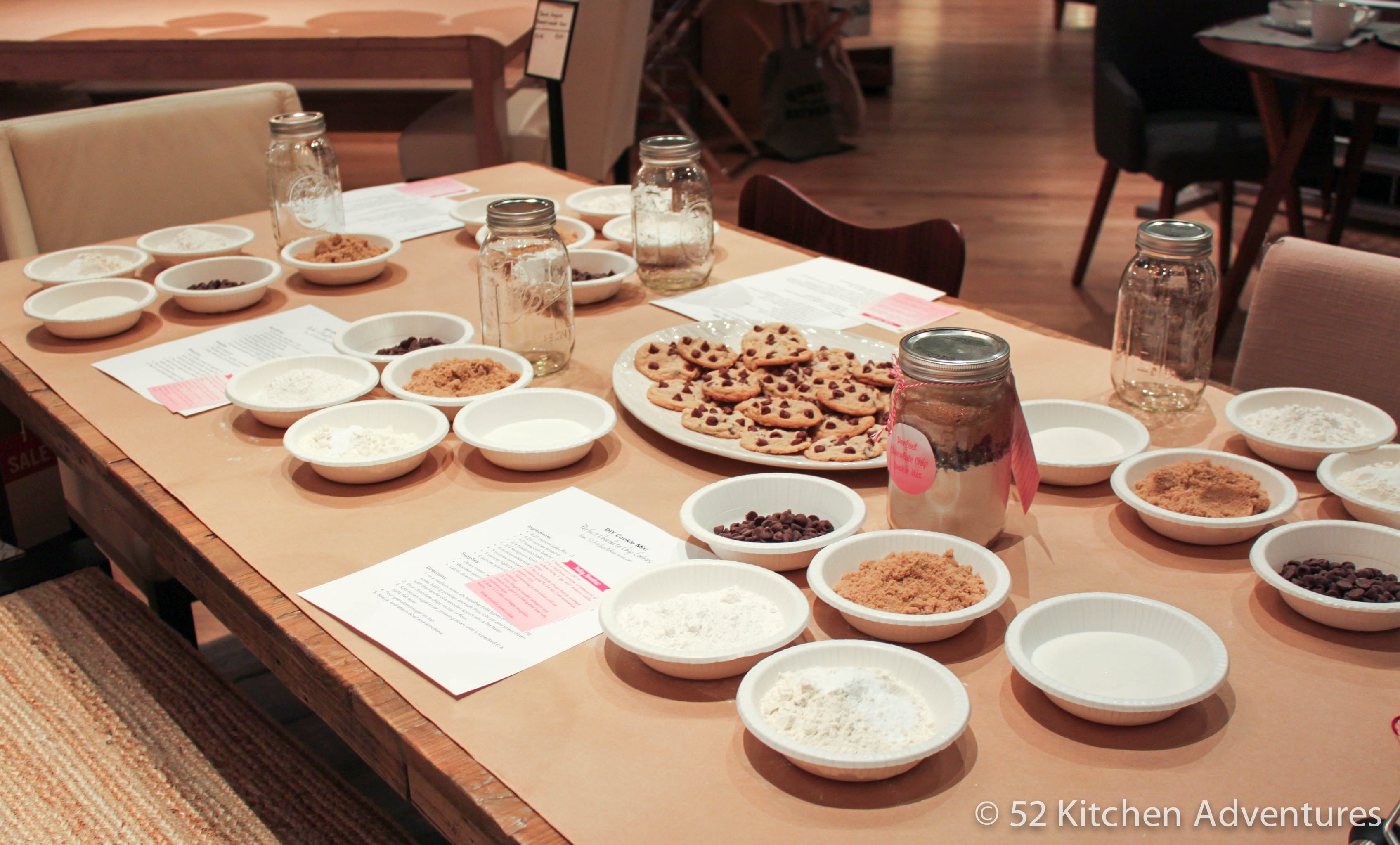 To start, I baked a few dozen cookies to share. I recommend supplying cookies and milk for everyone (or cookies and wine) to give them a preview of what they're creating and provide some delicious fuel. Of course, you'll also need Mason jars for each person, directions for them on how to make the cookie mix, the ingredients, labels, baking directions, and ribbon. (Scroll to the bottom of the post to get free printables for cookie mix jar labels and baking directions/baking tips for the jars.)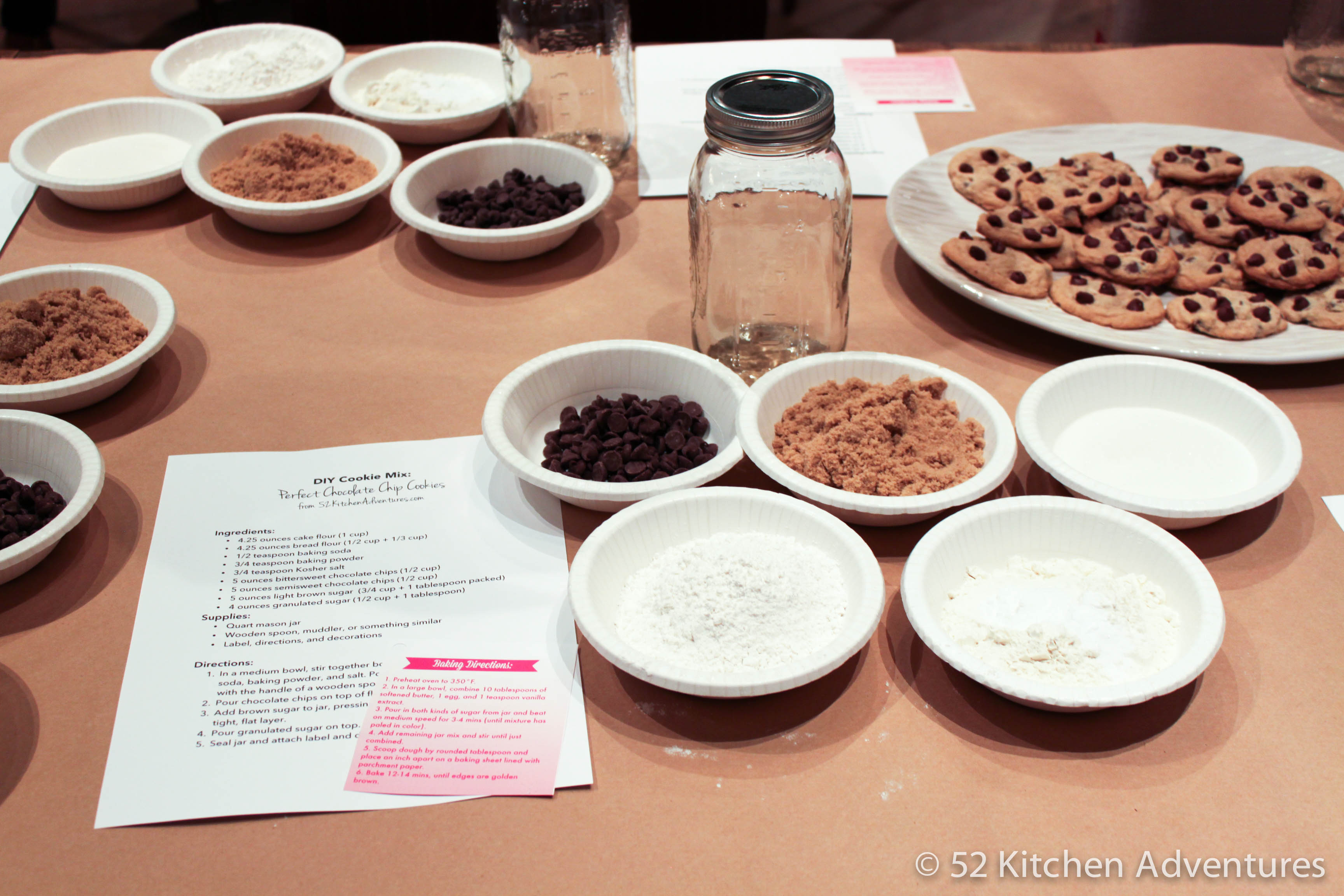 At each person's seat, I set up a station: a jar, directions, labels, and a set of disposable bowls with each of the dry ingredients measured out already. The most accurate way to make this recipe is to weigh the flours and sugars, so I recommend using a kitchen scale if you can. If not, I figured out the closest measurements in cups for you and included them in the recipe below.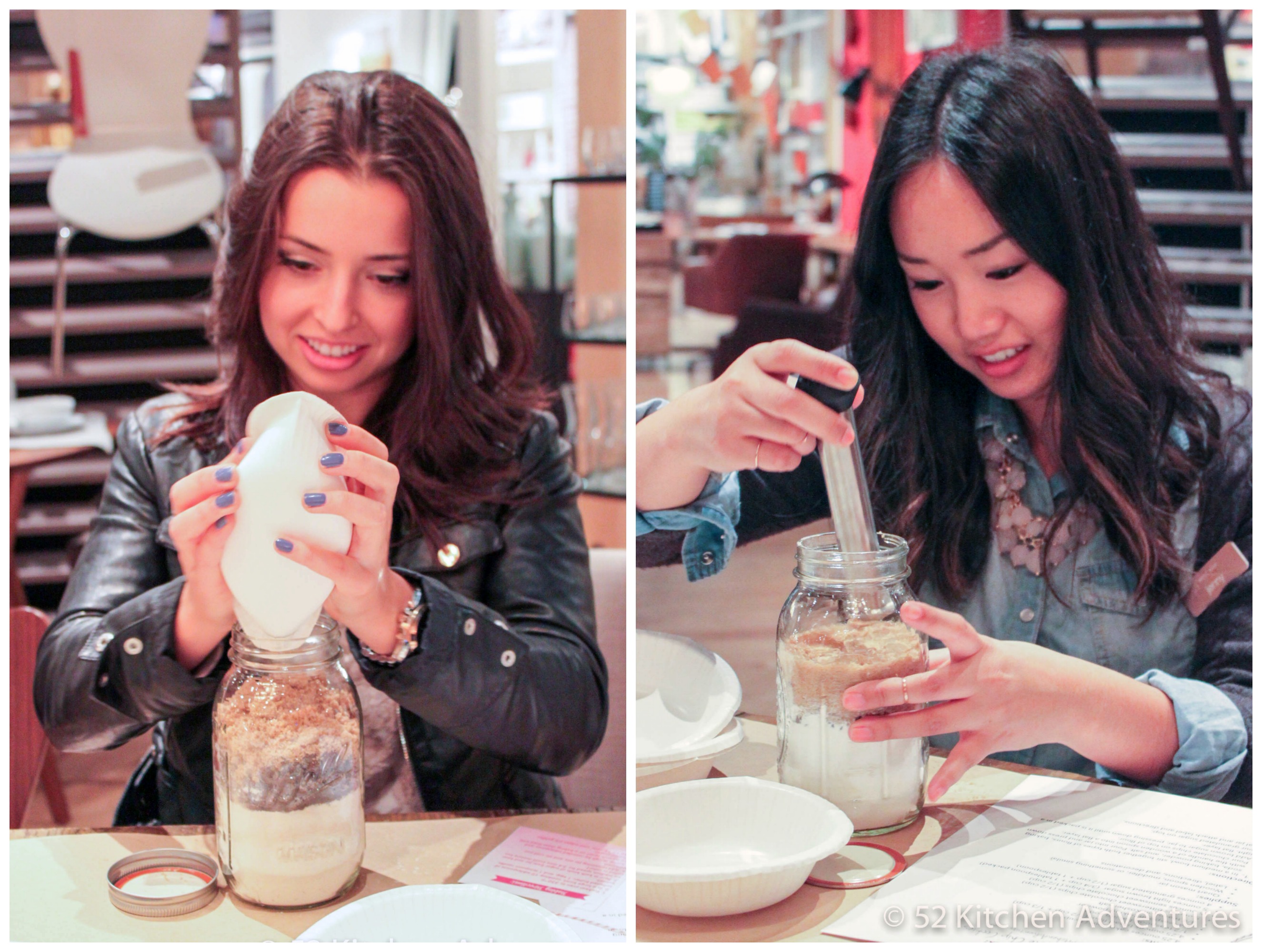 Using disposable bowls worked out really well – you can fold them in half to easily pour the ingredients into the jars (see the photo on left above to see what I mean).
The last tool you'll need is something like a handle of a wooden spoon or a muddler (anything with a wide/flat end) to push the ingredients down into the jar. To make all the ingredients fit in a jar, you have to push down the flour mixture and brown sugar to get rid of excess air and make them flat (see the photo on right above).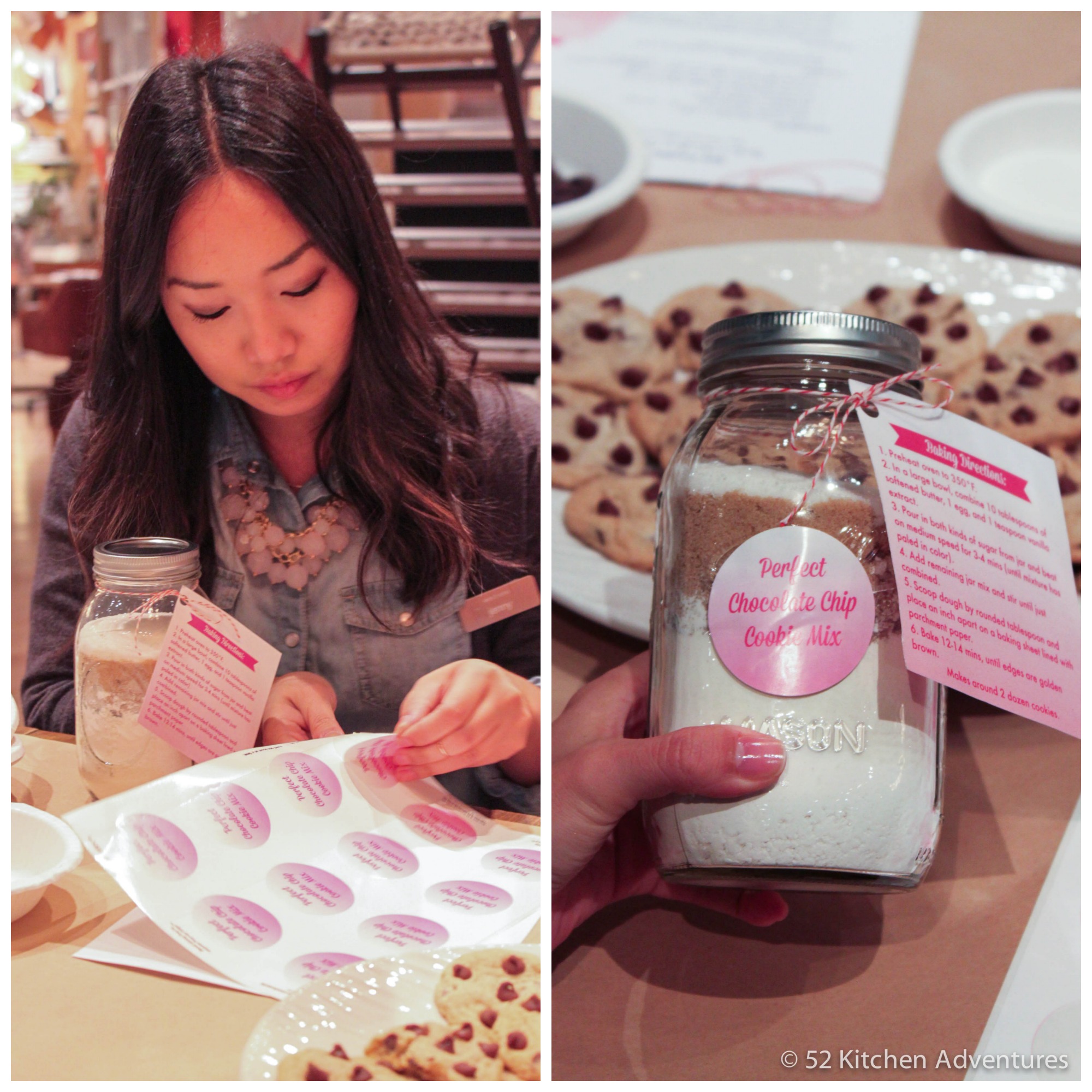 After you pour in each layer, all you do is seal the jar, attach a label and directions. You can add a ribbon or some fabric over the lid to make it an even prettier present.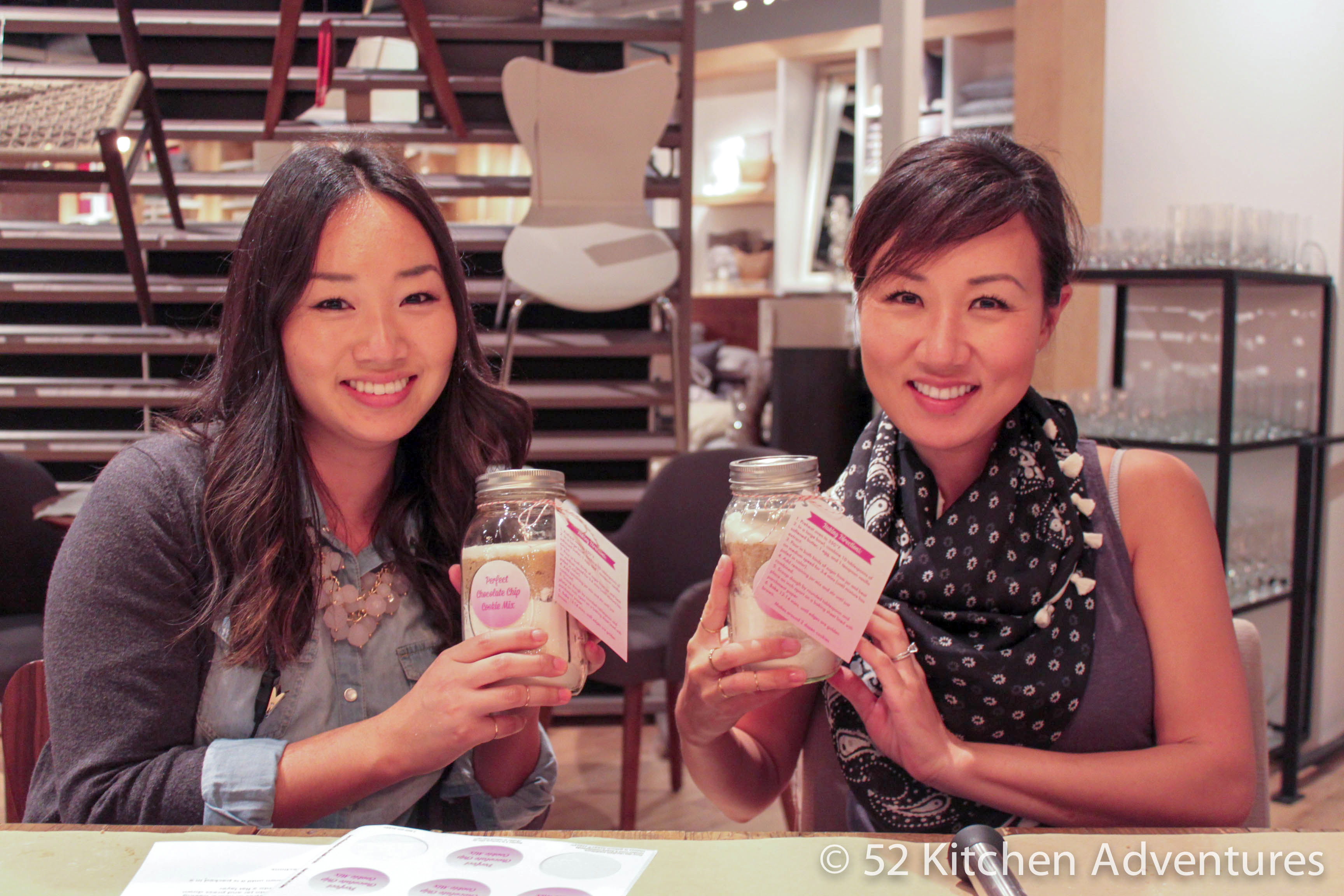 Voila! You have a fun gift that's easy to make.
I have free printables below that you can use to label the jar and for the attached baking directions/baking tips (I used the Word doc below to print the directions and tips on either side of the same card).
Cookie jar labels (right click to save):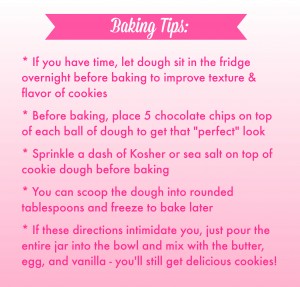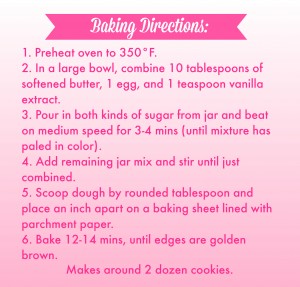 Download the baking directions & baking tips labels in a Word doc:

DIY Cookie Mix: Perfect Chocolate Chip Cookies
Ingredients
Ingredients

4.25 ounces cake flour (1 cup)
4.25 ounces bread flour (1/2 cup + 1/3 cup)
1/2 teaspoon baking soda
3/4 teaspoon baking powder
3/4 teaspoon Kosher salt
5 ounces bittersweet chocolate chips (1/2 cup)
5 ounces semisweet chocolate chips (1/2 cup)
5 ounces light brown sugar (3/4 cup + 1 tablespoon packed)
4 ounces granulated sugar (1/2 cup + 1 tablespoon)

Tools

Wooden spoon, muddler, or something with a wide, flat end
Label, directions, and decorations
Instructions
In a medium bowl, stir together both types of flours, baking soda, baking powder, and salt. Pour into jar and press down with the handle of a wooden spoon into a flat layer.
Pour chocolate chips on top of flour.
Add brown sugar to jar, pressing down until it is packed in a tight, flat layer.
Pour granulated sugar on top.
Seal jar and attach label and directions.
Notes
Directions for baking:
1. Preheat oven to 350°F
2. Pour both kinds of sugar from jar into a large bowl with 10 tablespoons of softened butter. Beat for 3-4 mins on medium speed (until mixture has paled in color).
3. Mix in 1 egg and 1 teaspoon of vanilla extract.
4. Add remaining jar mix and stir until just combined.
5. Scoop dough by rounded tablespoon and place an inch apart on a baking sheet lined with parchment paper.
6. Bake 10-12 mins, until edges are golden brown.
http://www.52kitchenadventures.com/2014/10/30/diy-perfect-chocolate-chip-cookie-mix-in-a-jar/
More recipes you'll love: