Are you or someone you know gluten-free? Click here for perfect gluten-free chocolate chip cookies.
Or make the perfect gift – perfect chocolate chip cookie mix in a jar!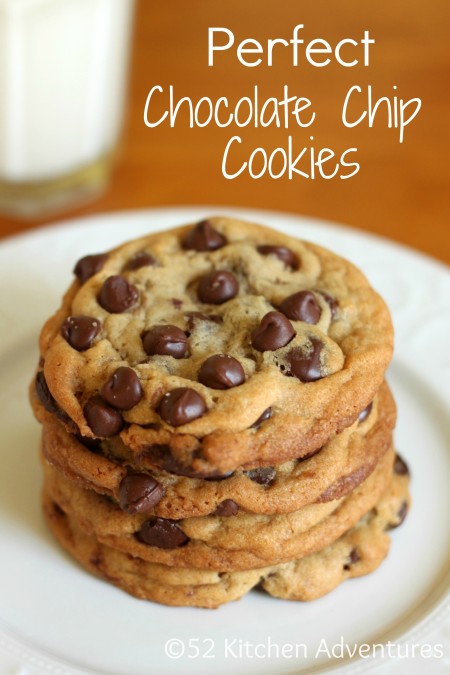 When I first came up with the Chocolate Chip Cookie Challenge, it wasn't because I had an awesome chocolate chip cookie (CCC) recipe I wanted to show off. In reality, I didn't even have a go-to recipe. That just doesn't seem right for such a classic dessert!
I challenged six other food bloggers to share their favorite CCC recipes with us. Once their posts started coming in, I  just wanted more, so I opened it up to the public and hoped that it would get people baking.
And then I realized…I should probably be sharing my favorite CCC recipe too! So the challenge did get at least one person baking – me! I did a lot of Googling and kept coming across the same recipe over and over. Have you heard of the New York Times' chocolate chip cookie recipe? I'd read about how it was supposed to be the perfect CCC recipe and mentally added it to my to-bake list, but never got around to it.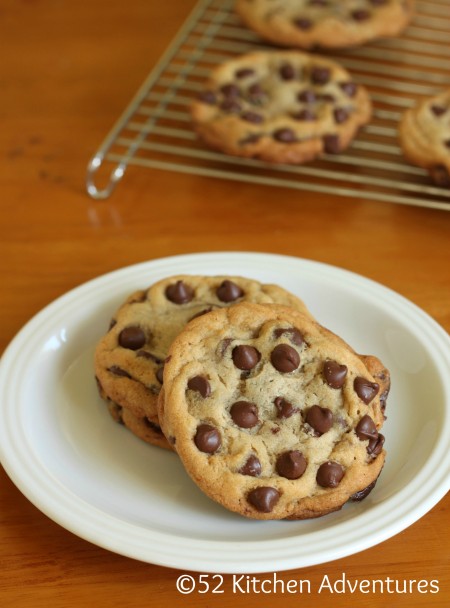 Then I found it on all sorts of great blogs: Tidy Mom, Recipe Girl, The Little Kitchen, Good Life Eats, Two Peas and their Pod. They all said the cookies were excellent, even if some weren't prepared to call them the best ever.
I am prepared to call them perfect chocolate chip cookies. What makes a perfect CCC? A thick, soft, cookie with a crispy edge and lots of chocolate chips. These have a sprinkle of sea salt on top which enhances the sweetness. I love how these come out really soft and almost like they're slightly undercooked in the middle, but still have a nice crisp when you first bite into them.
The recipe has a few unique traits, one of which you need to know up front: it recommends you refrigerate the dough for 24-36 hours. I know, that is a long time to wait for cookies. As you can see in the photo below, there is a noticeable difference between baking immediately and waiting a bit. They spread less, making a thicker and softer cookie, and also brown more evenly. Letting the dough rest allows the dry ingredients to soak up the wet ones and gives a better consistency. Apparently even the original Toll House recipe chilled the dough overnight.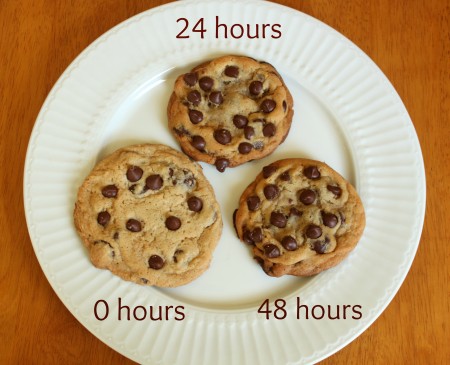 Here's the thing: I didn't taste a huge flavor difference. The cookies are supposed to have a "richer, more sophisticated taste, with stronger toffee hints and a definite brown sugar presence." I didn't get that, but I did like the overall result in texture and flavor. I think I'll try refrigerating for just a few hours next time and see if that's enough.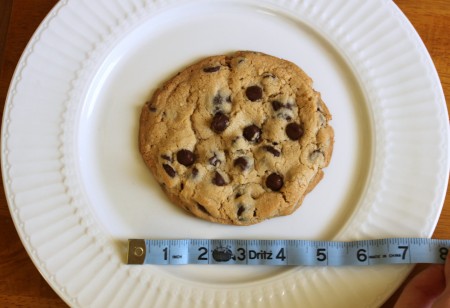 The recipe also calls for 3.5 ounces of dough – the size of a "generous golf ball."  I tried using 3.15 ounces, which made huge 5 inch cookies that were a little big for me (above you can see one – on a dinner plate!). I ended up trying 2 ounces, which still had a crispy edge and a thick, soft middle, without being too much to eat in one sitting.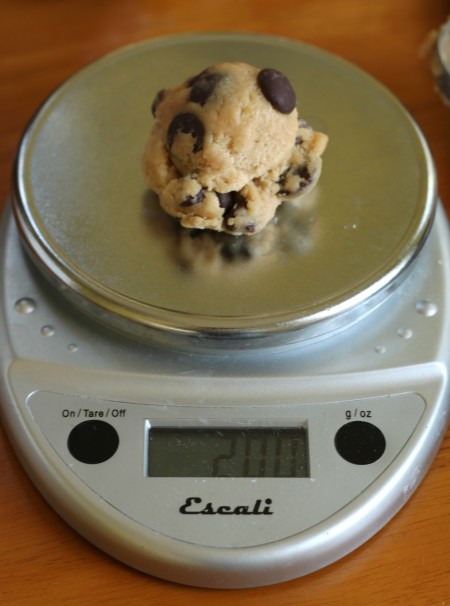 So you'll need a few things for this recipe – a kitchen scale
 will certainly help you, but if you don't have one, just try to make them all the same size (a bit smaller than a golf ball). I love my cookie scoop
 and it's just about the right size for these.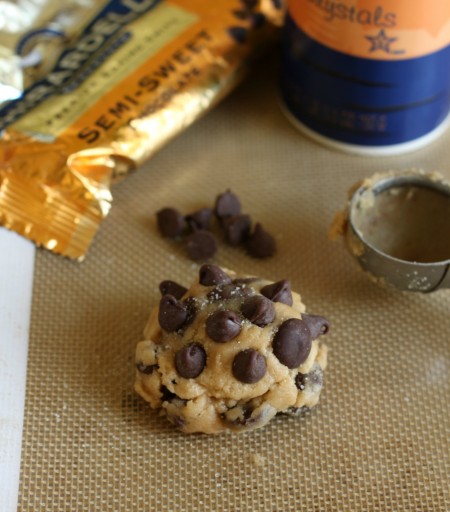 These nonstick baking mats 
are great for any baking (although parchment paper
 works too). Finally, instead of all purpose flour, you'll need bread flour
and cake flour. Oh, and you'll need patience, but unfortunately you can't really buy that.
My final tip for you – when you add a sprinkle of sea salt, add some additional chocolate chips on top of the ball of dough (as seen above). I learned this from Recipe Girl and I'll never make CCCs again without doing it. It makes them look picture perfect!
Perfect Chocolate Chip Cookies
Adapted from the New York Times
Ingredients
8 1/2 ounces (2 cups minus 2 tablespoons) cake flour
8 1/2 ounces (1 2/3 cups) bread flour
1 1/4 teaspoons baking soda
1 1/2 teaspoons baking powder
1 1/2 teaspoons coarse salt (I used Kosher salt)
2 1/2 sticks (1 1/4 cups) unsalted butter
10 ounces (1 1/4 cups) light brown sugar
8 ounces (1 cup plus 2 tablespoons) granulated sugar
2 large eggs
2 teaspoons vanilla extract
10 ounces (1 cup) bittersweet chocolate chips
10 ounces (1 cup) semisweet chocolate chips
Sea salt for sprinkling
Instructions
In a large bowl, combine both types of flour with baking soda, baking powder and salt, and set aside.
Using a stand mixer with a paddle attachment, cream butter and both types of sugar together on low/medium speed (I was on 4) for around 5 minutes (until mixture is very pale in color).
Add 1 egg and mix on low until combined. Add second egg and repeat. Mix in vanilla. On the lowest speed, add dry ingredients and mix until just combined (5 to 10 seconds). (Note: I add to add the flour in a few smaller batches so it wouldn't spill over while the mixer was on. You could also stir it by hand.)
Add chocolate chips and stir with a large spoon until they are distributed throughout dough.
Cover the bowl with plastic wrap, pressing it against the top of the dough. Refrigerate for 24 to 36 hours.
When ready to bake, preheat oven 350°F and line a baking sheet with a silicone mat or parchment paper.
Scoop dough onto a kitchen scale until you have 2 ounces. Transfer to prepared baking sheet. Sprinkle with a dash of sea salt. Optional: Press several chocolate chips onto top for a picture-perfect cookie.
Bake 15-18 minutes, until light golden brown. Place cookie sheet onto a wire rack for 10 minutes.
Repeat baking steps with remaining dough or refrigerate and bake remaining batches later. Dough will keep for up to 72 hours from when it was prepared.
http://www.52kitchenadventures.com/2012/08/14/perfect-chocolate-chip-cookies-recipe/
More recipes you'll love: