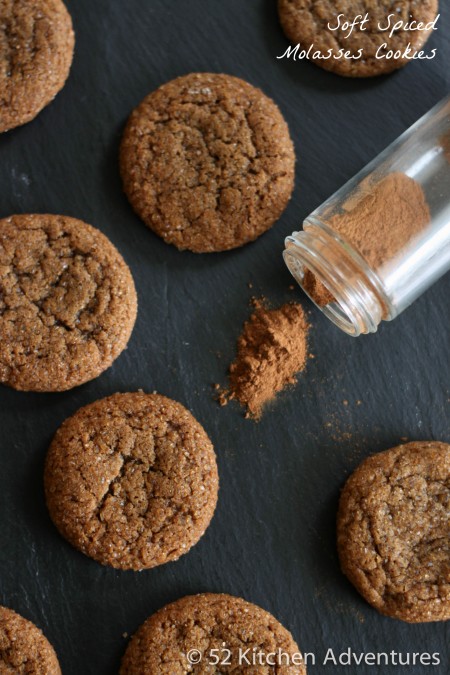 There are a few things that make a cookie irresistible to me: a little crunch on the outside, with a super soft and chewy inside. Add in some spices and molasses and you've got the description for these incredible soft spiced molasses cookies. They're rolled in sanding sugar, which gives them some sparkle and crunch, but they're wonderfully soft and chewy and stay that way for days. Plus, the combo of cinnamon, ginger, and allspice gives a rich, warm spiced flavor.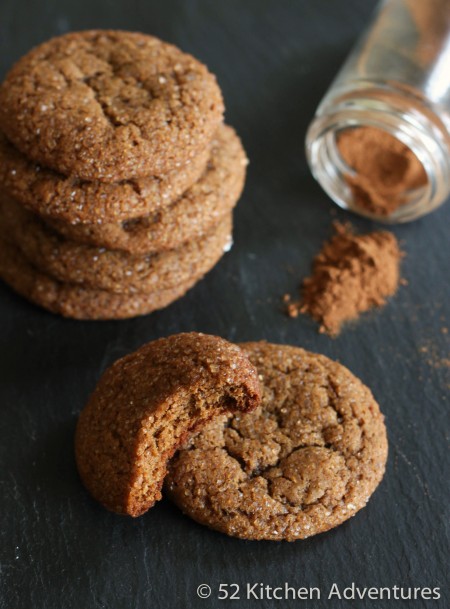 Besides the awesome texture and flavor of these cookies, the next best thing is how easy they are to make. I mixed the batter by hand in a matter of minutes and just had to take a little time to roll the dough into balls and roll them in sugar (which is worth the extra time, trust me). They rounded out my Christmas cookie plates perfectly, adding a little spice and a different flavor profile alongside perfect chocolate chip cookies, irresistible cranberry orange cookies, and triple chocolate cookies.
Tell me: what makes a cookie irresistible to you?
Soft Spiced Molasses Cookies
Ingredients
2 cups all-purpose flour
2 teaspoons baking soda
2 teaspoons ground cinnamon
3/4 teaspoon ground ginger
1 1/2 teaspoon ground allspice
1/2 teaspoon kosher salt
1 large egg
1/2 cup (1 stick) unsalted butter, melted
1/3 cup granulated sugar
1/3 cup molasses
1/4 cup packed dark brown sugar
Sanding sugar or raw sugar (for rolling)
Instructions
Preheat to 375°F.
In a medium bowl, stir together flour, baking soda, cinnamon, ginger, allspice, and salt. Set aside.
In a large bowl, whisk egg, melted butter, sugar, molasses, and brown sugar together. Add dry ingredients and mix until just combined.
Pour sanding sugar into a small, shallow bowl. If dough is sticky, place in fridge or 15-20 mins. Scoop out dough by the tablespoonful, roll into balls, and roll in sugar. Place 2 inches apart on a baking sheet lined with parchment paper or a silicone baking mat. Bake for 8-10 minutes, rotating halfway through, until cookies are just set around the edges, puffy and cracked. (Don't overbake them – they won't be soft and chewy.)
http://www.52kitchenadventures.com/2014/12/17/soft-spiced-molasses-cookies/
More recipes you'll love: