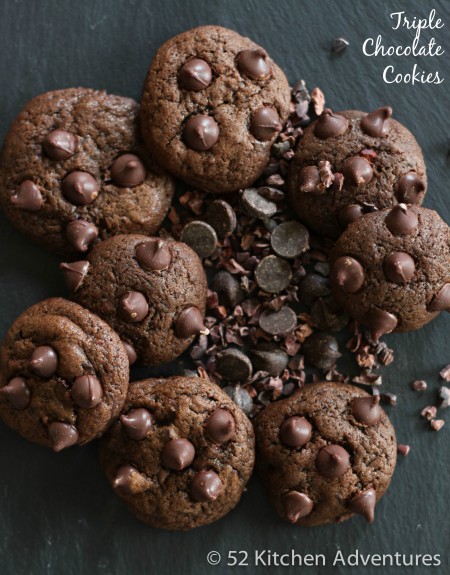 Last weekend I went a little baking crazy and made 5 types of cookies and 3 types of fudge. 'Tis the season, right? All of it got packaged up into cute boxes for work clients and far away family. I used two of my favorite cookie recipes from this site (perfect chocolate chip cookies and irresistible cranberry orange cookies) and added some new ones to my repertoire.
I'm going to share my three favorites from my baking frenzy this week. Hopefully I'm catching you before you finish your holiday baking, so I can help you add some awesome new cookie recipes to your list too! First up is one for all the chocoholics out there…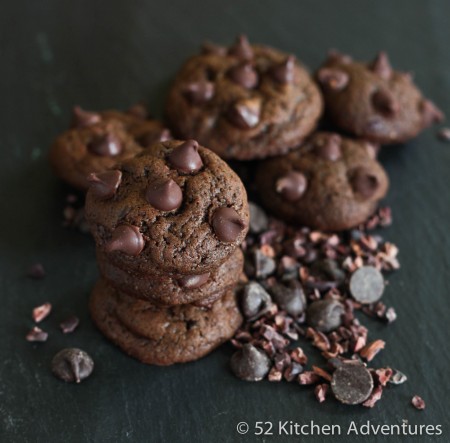 Triple chocolate cookies! That's right, I'm talkin' cocoa powder, chocolate chips (use multiple kinds if you have 'em!), and cocoa nibs. I haven't done much baking with cacao nibs, but I like their slightly bitter flavor – it adds another dimension (and crunch) to these cookies and doesn't really taste bitter when surrounded by so many sweet ingredients.
If you haven't had cacao nibs before, they're dried bits of cacao beans – basically, chocolate in its purest form, before anything else is added. The texture is pretty similar to coffee beans, with a nutty, bitter chocolate flavor. I got mine from Nuts.com*, which has more info on cacao nibs if you're interested.
The texture of these cookies reminds me a lot of traditional chocolate chips cookies. They're soft, chewy, and have a lot of chocolatey goodness goin' on. Plus, they're easy and quick to make, which is a major bonus during the holiday season!
What's on your baking list this year? I'd love to see your recipes!
Ingredients
2 1/4 cups all-purpose flour
2/3 cup cocoa powder
1 teaspoon baking soda
1/4 teaspoon salt
1 cup (2 sticks) unsalted butter, softened
3/4 cup granulated sugar
2/3 cup packed brown sugar
1 teaspoon vanilla extract
2 large eggs
1 3/4 cups chocolate chips (I used a mix of semi-sweet and dark)
1/4 cacao nibs
Instructions
Preheat oven to 350° F.
In a medium bowl, stir together flour, cocoa, baking soda, and salt. Set aside.
In a large bowl, beat butter with both types of sugar for 3-4 mins, until creamy and pale. Add vanilla and one egg, beating until incorporated. Add second egg and mix thoroughly again.
Add flour mixture and beat until just combined. Stir in chocolate chips and cacao nibs.
Scoop out rounded teaspoons of dough and drop an inch apart on a baking sheet lined with parchment paper or a silicone baking mat.
Bake 9-11 minutes or until centers are set.
http://www.52kitchenadventures.com/2014/12/16/triple-chocolate-cookies/
*Disclaimer: Nuts.com sent me cacao nibs to try, but I wasn't compensated for this post and all opinions are my own.