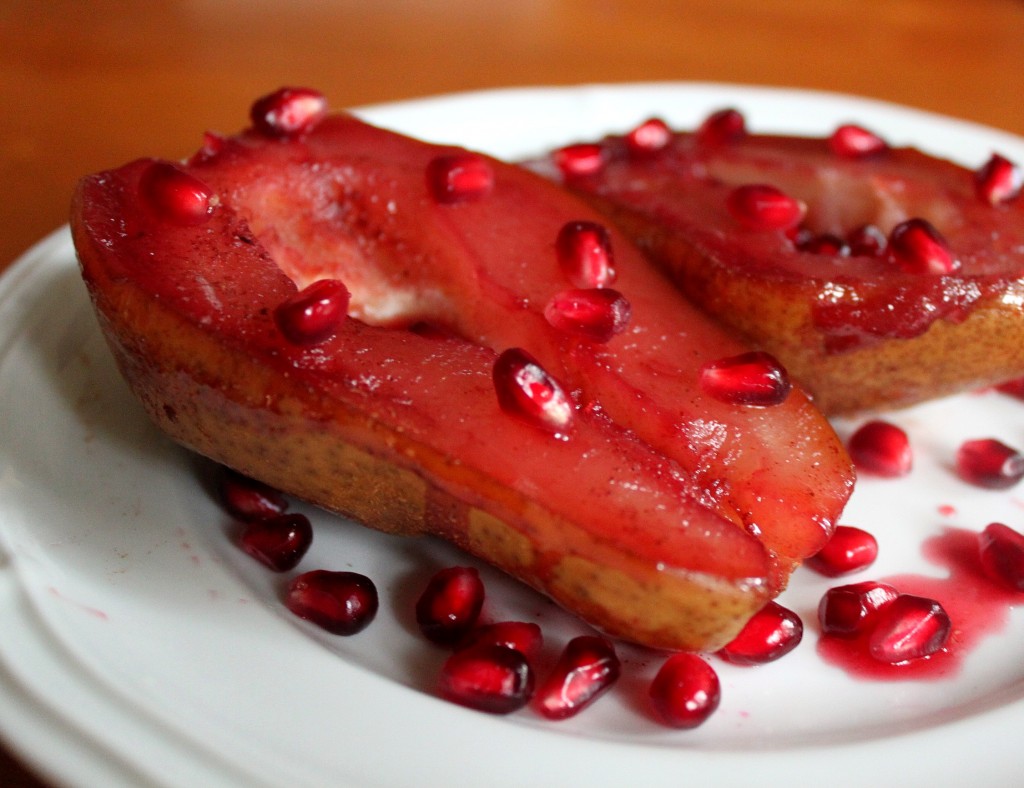 Pomegranates can be found in many grocery stores this time of year (unless you're in the Southern Hemisphere, where they're in season from March to May). They grow on trees or shrubs native to the Mediterranean, although they are now grown all over the world since being introduced to Latin American and California by Spanish settlers in the 1700s.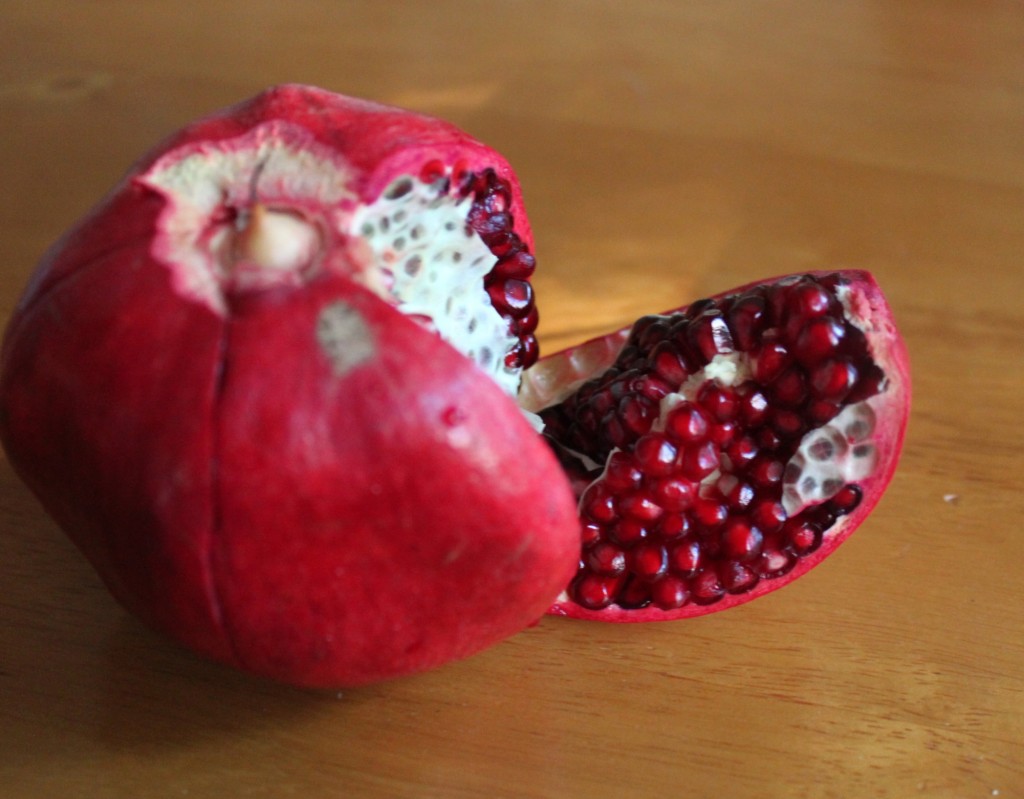 When you pop open the large fruit (see an easy way to open them up without a juicy mess here),  you will find hundreds of arils (typically called seeds). The rest of the fruit is inedible and it can be a bit of a pain to get out all those arils, but it's worth all the effort! Each aril bursts in your mouth, revealing tangy and barely sweet juice. You can eat the whole aril or choose to spit out the small white seed inside, which is kind of chewy.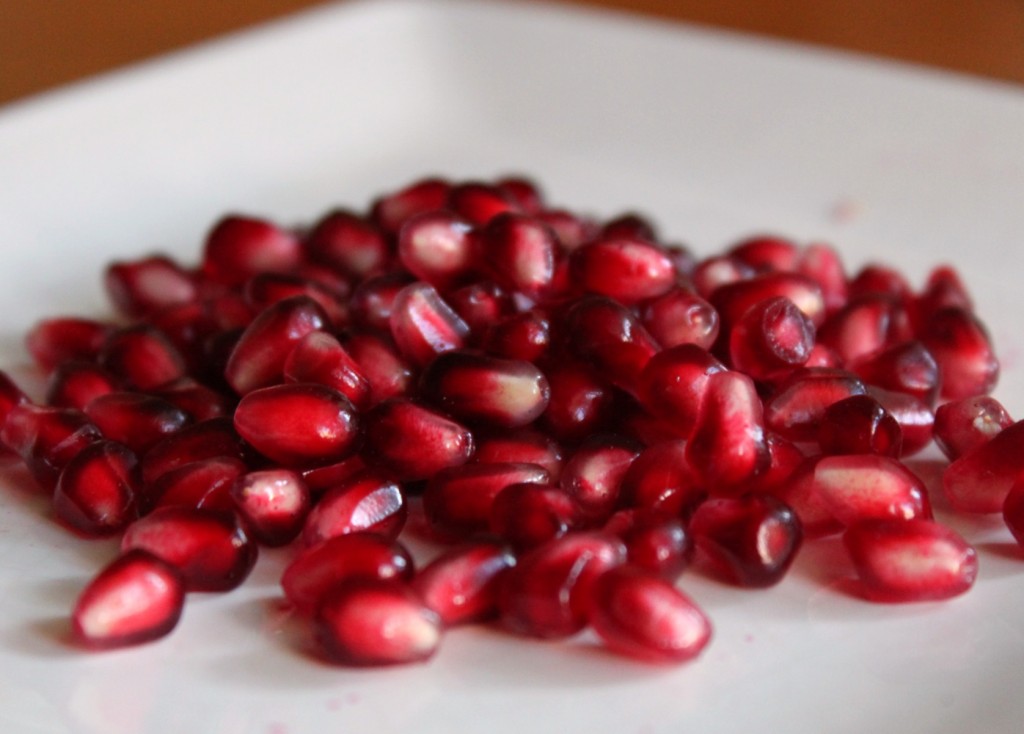 Collect all the arils, juice them (try this simple method) and you can easily make pomegranate syrup (aka grenadine) or pomegranate molasses, which is used in a lot of Middle Eastern cooking. I made syrup and cooked pears in it, which turned the pears a delightful pink color and gives them a lovely sweet flavor and soft texture. I actually used pears that were nowhere near ripe, but they still came out perfectly sweet and soft. There are tons of ways to use pomegranate syrup and I'll share some more later this week.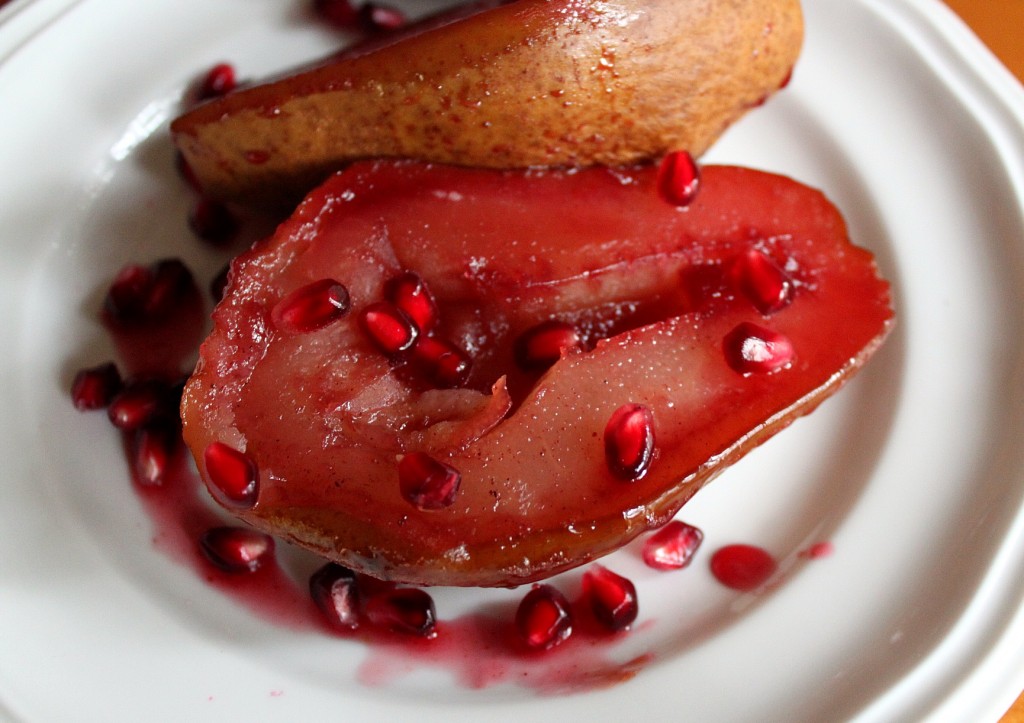 Pomegranate Syrup
Adapted from Pomegranates.org
Yields around 3/4 cup
In a small saucepan, heat pomegranate juice and sugar over medium heat. Stir until sugar is dissolved and bring to a boil. Let simmer for around 10 minutes, until reduced and thickened. Let cool and store in refrigerator for up to 2 weeks.
Spiced Pomegranate Baked Pears
Adapted from Pomegranates.org
Yields 2-3 servings

2 pears (I used Bartlett)
1/2 C pomegranate syrup
1 T lemon juice
1 cinnamon stick
1/2 t ground nutmeg
1/2 t Chinese five spice
A small handful of pomegranate arils for garnish
Preheat oven to 350ºF.
Slice pears lengthwise, core and place cut side down in a baking dish.
Combine pomegranate syrup, lemon juice, cinnamon and cloves in a bowl. Pour over pears and bake for around 45 minutes or until pears are fork tender.
More recipes you'll love: