This is my last pumpkin recipe (for now). I satisfied a major fall/pumpkin craving by making pumpkin doughnuts, pumpkin muffins, and these oatmeal pumpkin cookies. As I mentioned in the doughnut post, the tricky thing about baking is that I'm trying to eat even healthier than normal, since I'm in the middle of a Kaia FIT bootcamp session.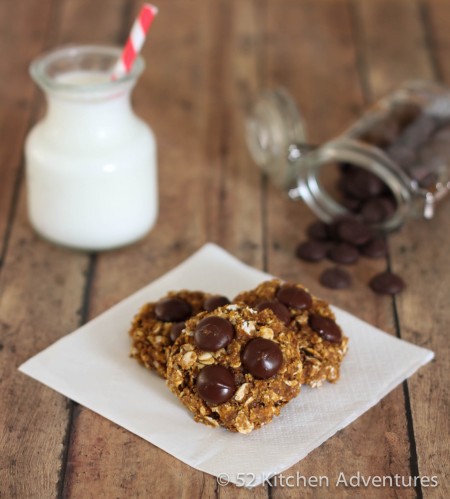 I was on the hunt for a healthy-ish pumpkin cookie recipe, and came across these low-fat pumpkin oatmeal cookies at Love From the Oven. Christi makes them without chocolate chips and drizzles a glaze over the cookies instead. I found that these cookies taste a bit too healthy (read: not very sweet) alone, so I added some Ghirardelli bittersweet chocolate chips and put them on top of the cookie dough pre-baking. (I picked up that method in my Perfect Chocolate Chip Cookie research and I can't go back – I love how it looks!)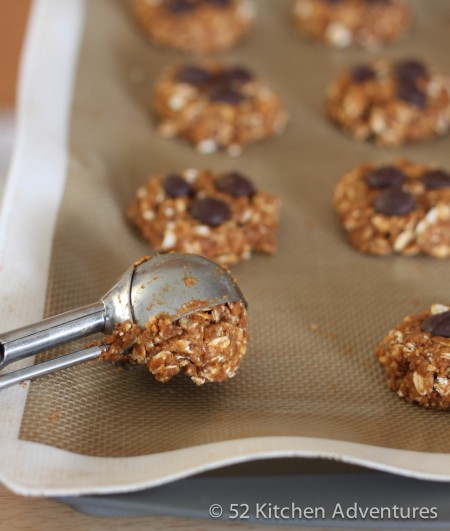 I used a small cookie scoop to measure out the dough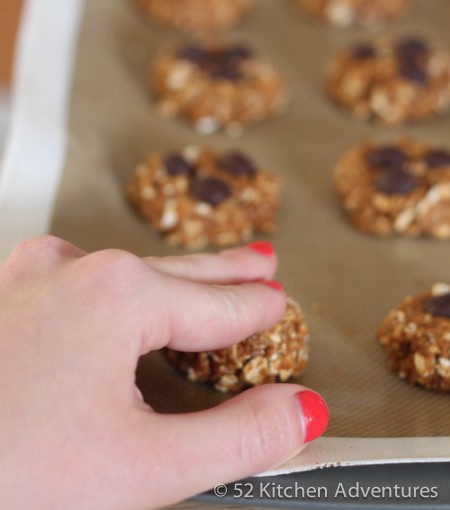 The cookies won't spread, so pat the dough ball flat and into the thickness and size you want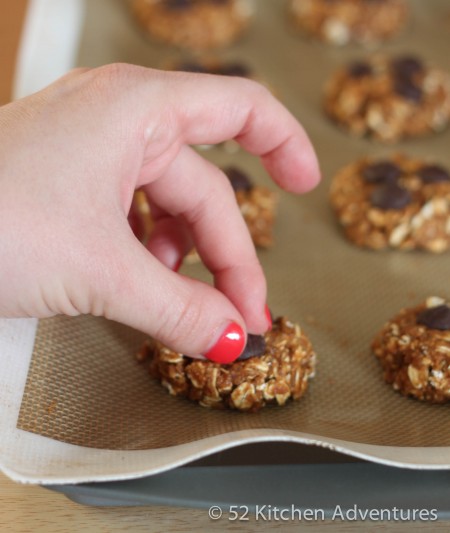 Last step before baking: add a few chocolate chips and lightly press into dough. This makes them all look picture-perfect (and gives you some chocolate in each bite!).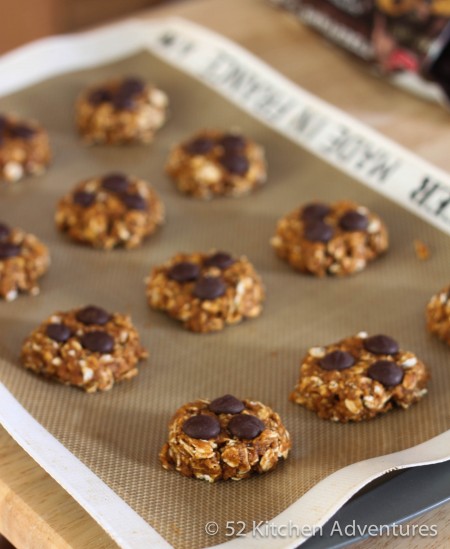 Ready to go in the oven!
Ingredients
1 cup pumpkin puree
1 whole egg
1 egg white
1 teaspoon vanilla
1 1/2 cup white whole wheat flour (or all purpose flour)
3 cups rolled oats
3/4 cup turbinado sugar (or brown sugar)
1/2 teaspoon baking powder
1 teaspoon baking soda
2 teaspoon cinnamon
2 teaspoon pumpkin pie spice
1/4 teaspoon salt
1/2 cup chocolate chips
Instructions
Preheat oven to 350°F. Line a baking sheet with parchment paper or silicone baking mat.
In a large bowl, combine pumpkin, egg, egg white, and vanilla.
In a separate large bowl, whisk together flour, oats, sugar, baking powder, baking soda, cinnamon, pumpkin pie spice, and salt.
Add wet ingredients to dry ingredients and mix until just combined.
Scoop two teaspoons of dough (I used a small cookie scoop) onto prepared cookie sheet. Flatten dough into cookie shape (it will not spread so make it the size and thickness desired). Place a few chocolate chips on top and lightly push into cookie.
Bake for 12 minutes.
Notes
http://www.52kitchenadventures.com/2012/09/27/pumpkin-oatmeal-chocolate-chip-cookies/
More recipes you'll love: