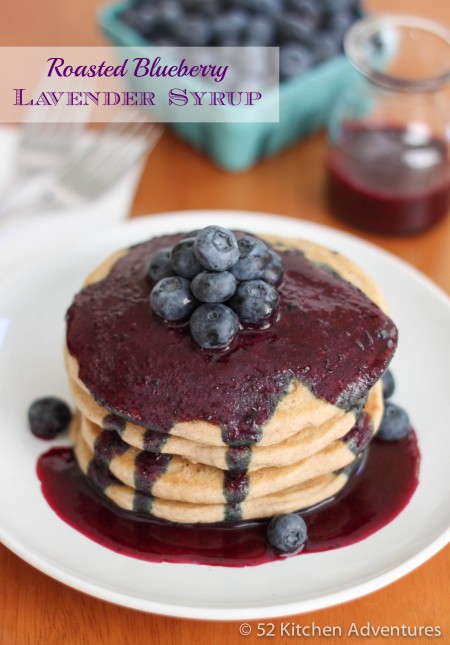 It's so fun to try new things with fruit while it's at its peak and abundant during the summer season. In the past I tried grilling fruit, but this year I've been experimenting with roasting fruit to deepen its flavors. After trying out vanilla bean & honey roasted cherries (and making a roasted cherry milkshake – yum), I knew I had to try roasting my favorite fruit – the tiny, plump blueberry. If you follow me on Instagram, you may have seen this teaser of my roasted blueberries a few weeks ago: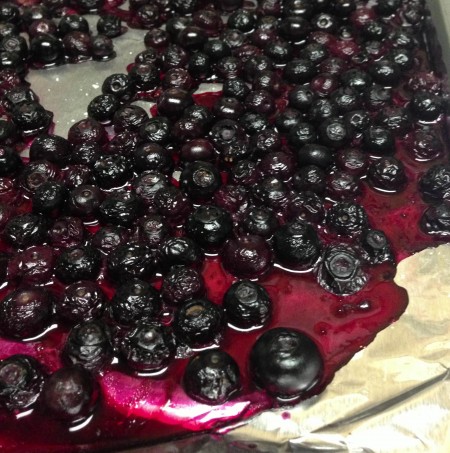 After roasting them until they began to burst, I decided to go with a flavor profile I know goes together beautifully. Lavender and blueberry are surprisingly complimentary, with sweet and floral notes that go so well together. I've put them together in the past in this blueberry lavender butter and blueberry lavender mini cheesecakes, plus some jam that I haven't shared with you quite yet. I wanted to do the same flavor profile with these roasted blueberries, so I pureed them with some lavender simple syrup.
This syrup is so easy to make and the flavor is incredible. To be totally honest, I'm not sure that roasting the blueberries really changed the flavor that much, so you could probably skip that step and make a blueberry lavender syrup that would be just as good.
This roasted blueberry lavender syrup is great as a topping, like on pancakes, or as a mixer, like in cocktails (I've got a recipe for one of those coming up next!). How would you serve it?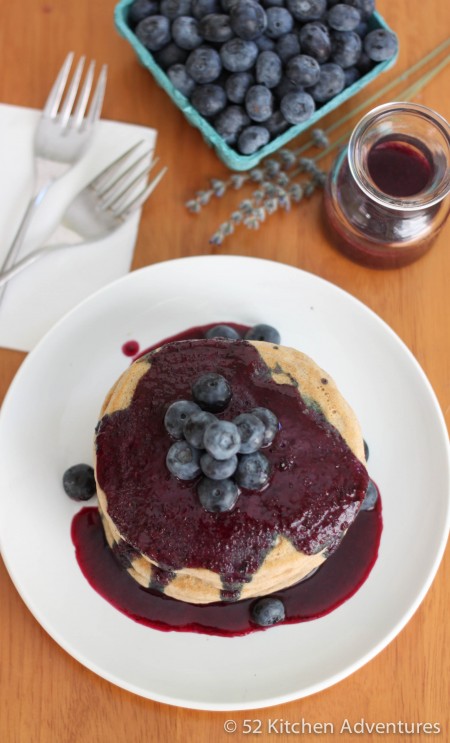 Roasted Blueberry Lavender Syrup
Ingredients
Instructions
Preheat oven to 400°F. Line a baking sheet with aluminum foil and place lavender in a square of cheesecloth, tying it shut with twine (if you don't have cheesecloth and twine, skip this step).
Place blueberries on prepared pan and sprinkle a pinch of salt on top. Roast in oven for around 15 minutes, or until berries start to burst.
In the meantime, prepare the lavender syrup: Combine equal parts sugar and water (such as 1/2 cup each) in a small saucepan over medium heat. Bring to a boil, then remove from heat and add bag of lavender. Let steep for 15 minutes, then remove (if you don't have cheescloth, strain lavender out with fine mesh sieve).
Let syrup cool to room temperature, then add 1/4 cup of it to a blender or food processor with roasted blueberries. Blend until smooth, then add more simple syrup to taste.
Optional: If you want to remove all blueberry bits, you can strain through a fine mesh sieve.
Store in a sealed container in the fridge until ready to serve.
http://www.52kitchenadventures.com/2013/08/22/roasted-blueberry-lavender-syrup/