This is giveaway #3 out of 4 for my month of giveaways. To enter, scroll down to the Rafflecopter form below. Be sure to come back next Monday for the final giveaway!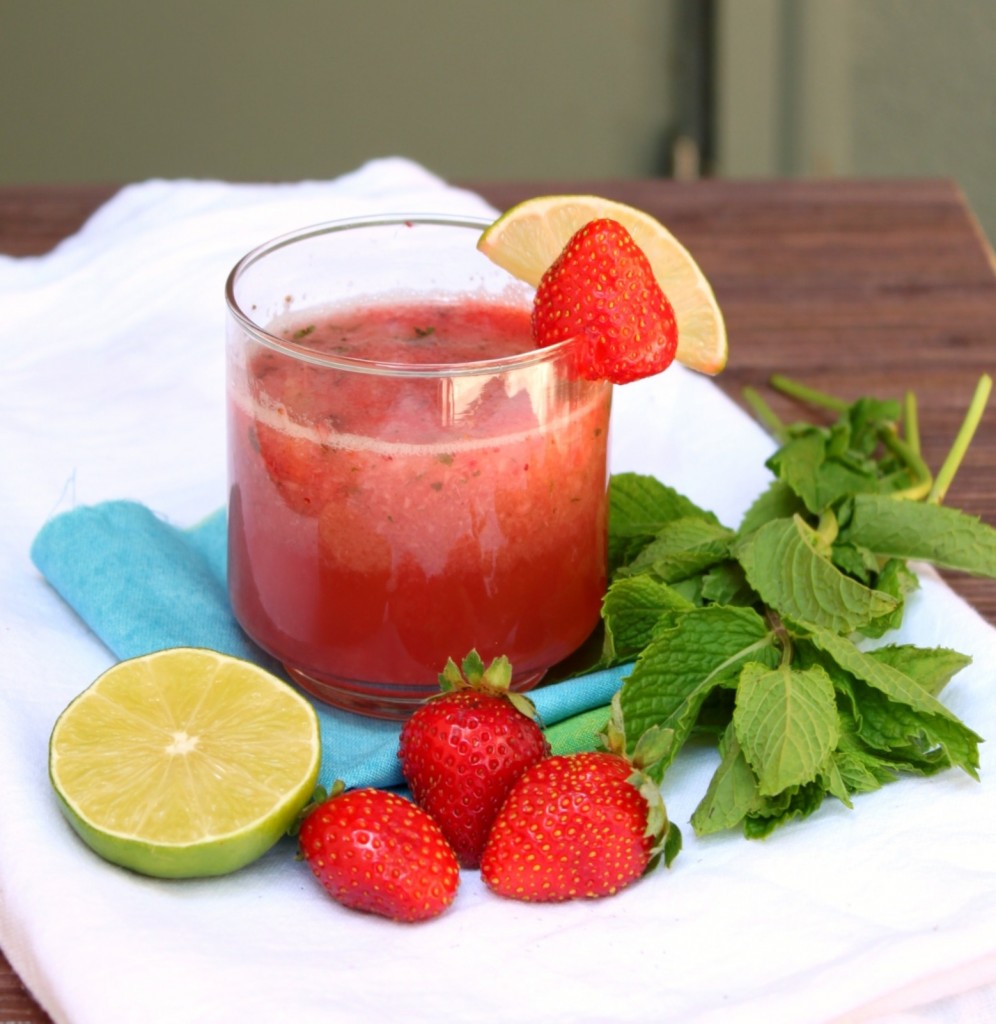 Today kicks off Midtown Cocktail Week in Sacramento, a week full of mixology competitions, tastings, classes and parties. If you're in the Sacramento area, check out the site for a list of fun events every night this week.
In honor of Midtown Cocktail Week, I made a great summer cocktail with a seasonal twist. I scoured the farmer's market for the best looking fruit and happened upon some freshly picked organic strawberries for a good price. These sweet little red berries compliment the mint and lime flavors and add some natural sweetness (depending on your berries, you can use add less sugar to the drink).
If you want more cocktail inspiration, check out my recipes for homemade Irish cream, citron vodka, and limoncello. I also made cupcakes out of the homemade liquors too (of course);  Irish coffee cupcakes and limoncello cupcakes. Later this week I'll share an Irish coffee recipe for a midweek pick-me-up.
The other exciting thing that starts today is a giveaway for a food processor! I polled my Facebook fans and they choose an 8-cup food processor as the prize. To enter, visit the form below the recipe.

Recipe:
Strawberry Mojitos
Yields 2 servings
I would normally muddle the mint in a mojito, but I wanted to try something different in honor of the food processor giveaway. If you don't have a blender or food processor, use a muddler or the back of a spoon to crush the mint and strawberries.
1/2 C fresh strawberries
A handful of fresh mint leaves
1 lime, juiced
2-3 ounces simple syrup, to taste*
3-4 ounces white rum, to taste
Ice
Soda water
In a food processor or blender, puree strawberries. Add mint and pulse until it is shredded. Pour into 2 glasses and add half of lime juice, simple syrup and rum to each, stirring to combine. Fill glasses with ice then top with soda water.
*Simple syrup is equal parts sugar and water combined, heated until sugar is dissolved and then left to cool.
More recipes you'll love: