I know people say stuff like this all the time, but I honestly can't believe it's almost mid-March. Time is passing by so quickly! As a food blogger, you really have to stay on top of holidays and seasons. I've been seeing St. Patrick's Day recipes and crafts all over Pinterest and blogs for the last few weeks.
I made these cake pops 2 weeks ago, which somewhat confused the people who got to eat them. "Are you doing a dry-run for St. Patrick's Day?" I was asked more than once. Nope, this is it – I have make it in time to photograph, edit, write, and post before the holiday. I actually meant to post this earlier this week, but instead I put together a list of tricks to make cake pops more easily (which you should read before you try making these).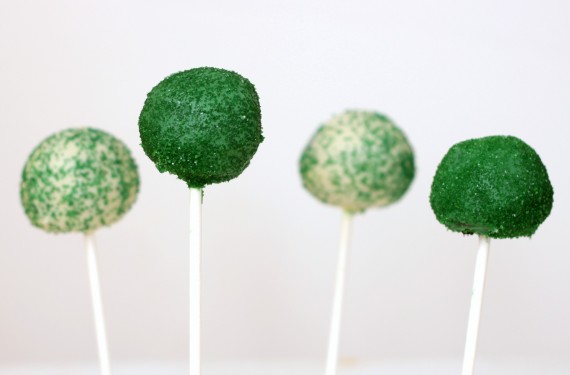 No matter what day of the year it is, these cake pops are delicious. I made a s'mores pie with Guinness and chocolate filling a couple of years ago, which showed me how well chocolate and Guinness go together. The deep flavor of the stout compliments the chocolate and makes it even richer. I used a pretty easy Guinness chocolate cake recipe, which has a very subtle flavor of Guinness. I also added a little Guinness to the frosting, which you could skip (or try some Irish whiskey if that's more your style).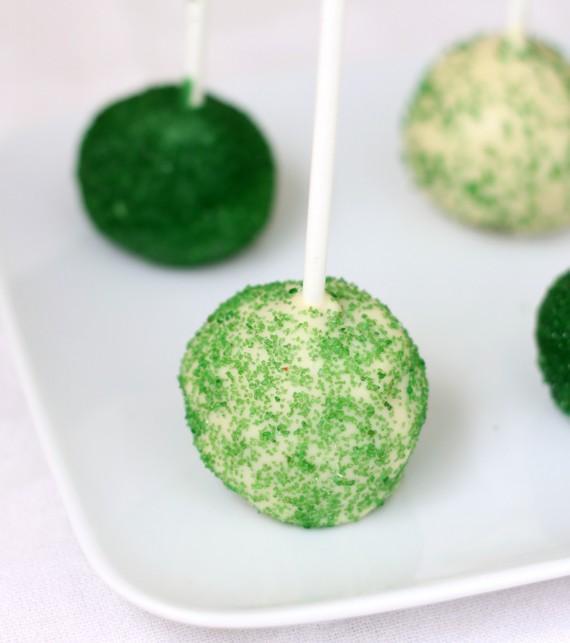 If you're not sure about the whole beer and chocolate thing, don't worry – Lauren, who hates beer, is a picky eater, and had to be convinced by 3 people to try one of these declared them amazing (and said they did not taste like beer). Like I said, it's a very subtle flavor. So don't be afraid to try these and don't let the green scare you off either. Use your favorite color and make these rich chocolate cake pops appropriate even on non-Irish holidays.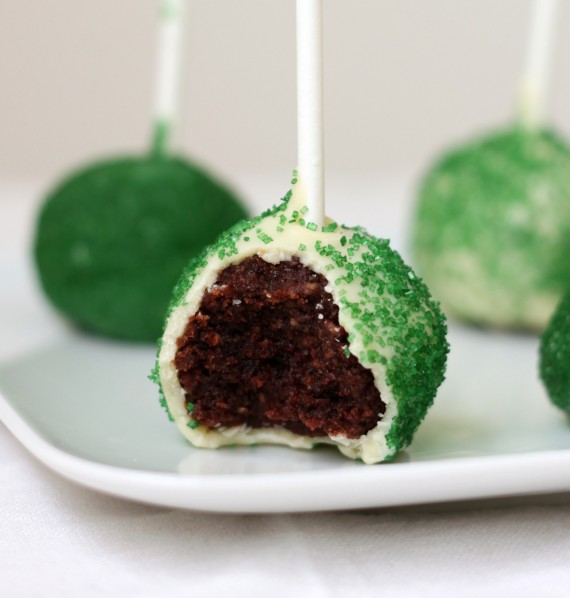 Speaking of cake pops, I'm thinking about following up my cake pop tricks post with another, more basic tip list. What do you guys want to know about making cake pops? Would a step by step photo tutorial on making cake pops from scratch be useful to you?
P.S. If you're looking for more Irish recipes for St. Patrick's Day, check out my Irish coffee recipe and my (surprisingly easy) recipe for homemade Irish cream, which I used to make Irish coffee cupcakes.
Recipe:
Guiness and Chocolate Cake Pops
Adapted from Taste of Home
Guinness Chocolate Cake
1 cup Guinness
1/2 cup butter, cubed
2 cups sugar
3/4 cup cocoa powdered
2 eggs, beaten
2/3 cup sour cream
2 teaspoons vanilla extract
2 cups all-purpose flour
1 1/2 teaspoons baking soda
Guinness Frosting
8 oz. cream cheese, softened
2 cups powdered sugar, sifted
1/2 cup heavy whipping cream
Guiness or Irish whiskey, to taste (optional)
Make the cake:
Preheat oven to 350°F. Line the bottom of a 9 inch springform pan with parchment paper and lightly grease the sides.
Over low heat, combine beer and butter in a small saucepan and cook until butter is melted, stirring occasionally. Remove from heat and add in sugar and cocoa. Whisk until combined.
In a small bowl, combine eggs, sour cream and vanilla. Whisk into the beer mixture.
In another small bowl, combine flour and baking soda. Whisk into the beer mixture until smooth.
Pour batter into prepared pan and bake for around 45-50 minutes (until a toothpick inserted near the center comes out clean). Cool completely in pan on a wire rack, then remove sides of pan.
Make the frosting:
In a large bowl, beat cream cheese until fluffy. Add powdered sugar and cream and beat until mixture just becomes smooth (don't over beat). If using, add a tablespoon of Guinness or whiskey and add more to taste.
Assemble the cake pops:
Green candy melts and/or white chocolate
40-50 6″ lollipop sticks
Styrofoam block or colander
Once the cake is completely cooled, break it into 4 pieces. Using your hands, a food processor, or blender, crumble each piece  and place crumbs into a large bowl.
Add frosting to the bowl and mix with the back of a spoon or your clean, dry hands until thoroughly combined.
Roll into 1 1/2-inch balls.
Place cake balls on a baking sheet covered in wax paper and chill for several hours in the refrigerator or for 15 minutes in the freezer. (If you put them in the fridge, put them in the freezer for 10 minutes while you melt the candy melts/chocolate.)
In a double boiler, microwave, or Crock-Pot Little Dipper, melt the candy melts or chocolate, stirring until all lumps are gone.
Once coating is melted, remove from heat and pour into a cup. Let cool for a few minutes.
Remove half of the cake balls from freezer. Dip the tip of a lollipop into the melted chocolate, then stick it straight down into a ball.
Holding the lollipop stick, dip cake ball into the melted coating until it's completely covered and quickly remove.
Hold pop over cup while excess coating drips off (if needed, tap your wrist with the opposite hand to help the process).
Place pops into styrofoam block or colander. Store covered in fridge until ready to serve.