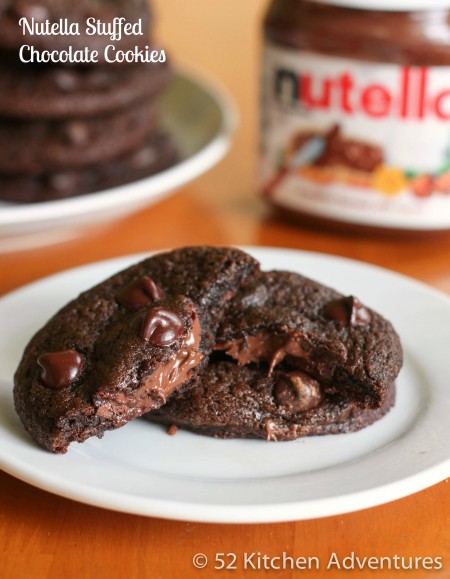 You guys, I can't even.
These rich chocolate cookies are stuffed with Nutella. Seriously.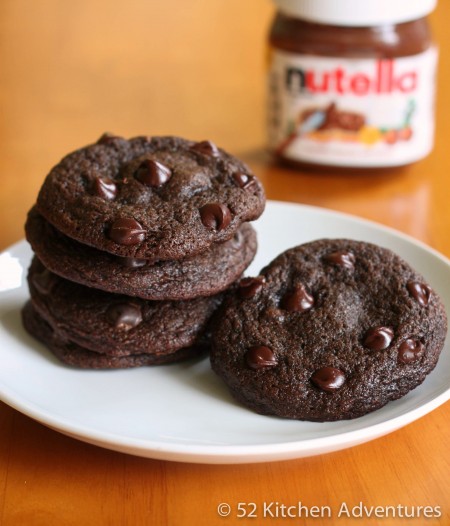 They look so innocent. Just a bigger version of my triple chocolate cookies, right? I mean, they look delicious, but just wait until you break one open…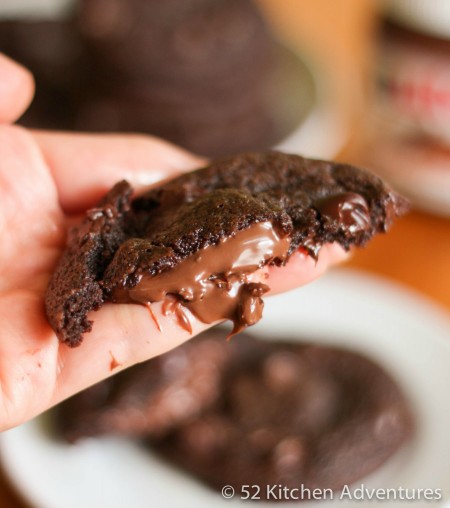 Creamy Nutella center. 
Soft, rich chocolate cookie + chocolate chips + Nutella. It rarely gets better than this! 😉
I've been a Nutella fan since I was a kid. I was lucky enough to travel to France when I was 9 or 10 and we were introduced to this magical spread (it's a chocolate & hazelnut spread if you're not familiar). Since then, I've incorporated it into several recipes, including Nutella macarons, creamy Nutella popsicles, Nutella buttercream frosting, Nutella brownies, Nutella & peanut butter swirl brownies, mini peanut butter & Nutella cupcakes, self-frosting Nutella pumpkin cupcakes, and Nutella strawberry smoothie. (I had no idea it was that many until I started searching my site! I guess I really do have a thing for Nutella 🙂 ).
These cookies aren't exactly difficult to make, but they do require quite a bit of time and patience. First, you scoop out balls of Nutella and freeze them. Then make the cookie dough and shape each individual cookie, stuffing it with one of the frozen Nutella dollops. Then freeze the dough before baking…although, to be honest, you can skip this step and bake the cookies without freezing them. But I tried both ways and found that the cookies were softer and a bit fluffier after being frozen.
As long as you can plan ahead, I recommend following all the steps outlined below. Believe me, these are worth the time and effort. They're not an everyday cookie, but I can pretty much promise you won't regret making them!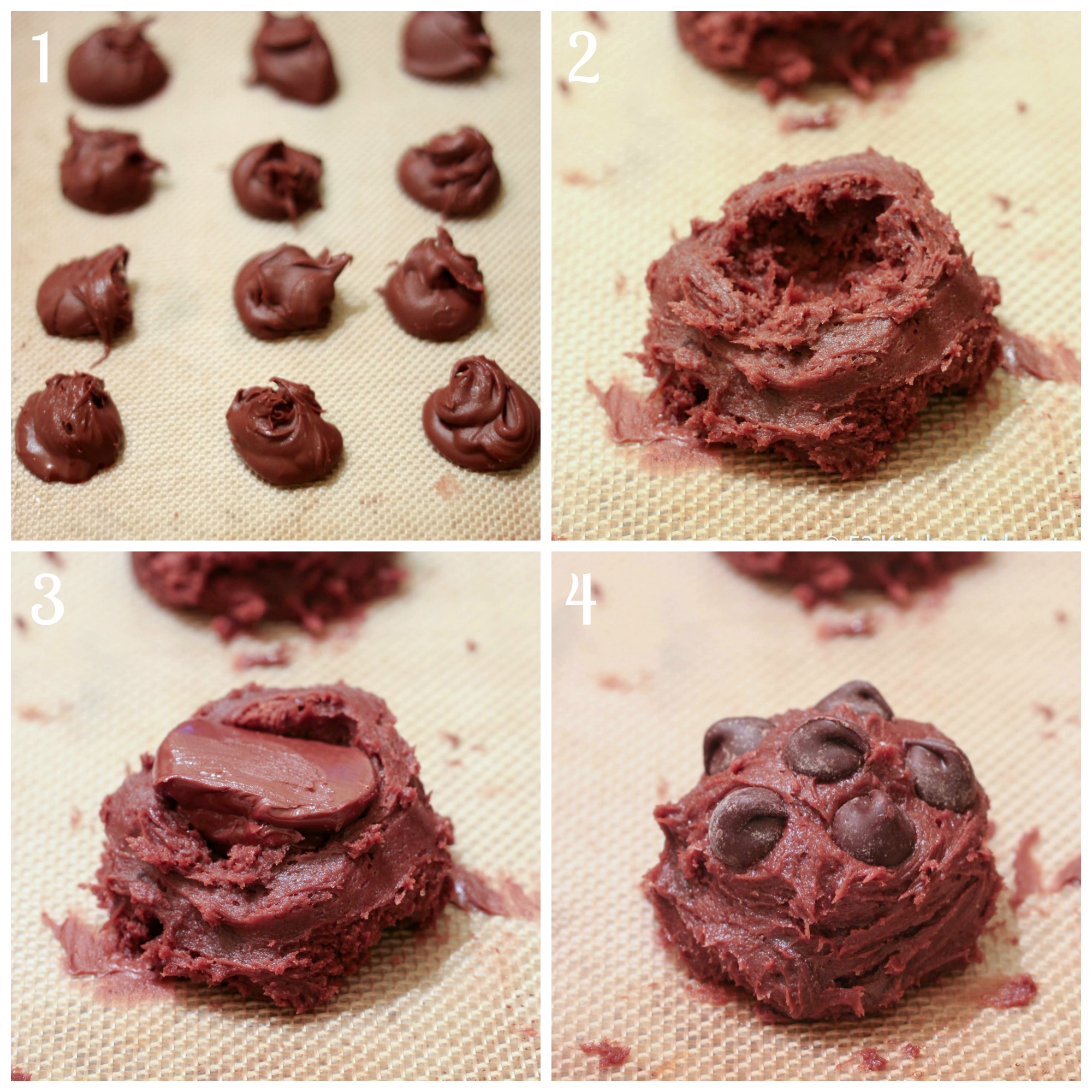 How to stuff a cookie with Nutella (left to right, starting in upper left-hand corner above): 
Scoop 22 dollops of Nutella (2 teaspoons each) onto a baking sheet and freeze.
Prepare cookie dough and chill. Scoop 22 balls of dough (3 tablespoons each) onto baking sheet and form an indentation in the middle.
Place 1 dollop of Nutella in the middle of each cookie.
Cover the Nutella with cookie dough. Gently roll into a ball. Optional: Place 5-6 chocolate chips and a sprinkle of Kosher or sea salt on top of dough balls.
Nutella Stuffed Chocolate Cookies
Ingredients
44 teaspoons Nutella (not quite an entire 13 oz jar)
2 1/4 cups all-purpose flour
2/3 cup cocoa powder
1 teaspoon baking soda
1/4 teaspoon salt
1 cup (2 sticks) unsalted butter, softened
3/4 cup granulated sugar
2/3 cup packed brown sugar
1 teaspoon vanilla extract
2 large eggs
1 cup chocolate chips (plus extras to put on top of cookies)

Optional:

Kosher or sea salt to sprinkle on top
Instructions
Prepare Nutella:

Scoop 2 teaspoons of Nutella onto a baking sheet lined with parchment paper or a silicone baking mat. Repeat until you have 22 dollops of Nutella then place in freezer until frozen (at least 1 hour or overnight).

Make cookie dough:

In a medium bowl, stir together flour, cocoa, baking soda, and salt. Set aside.
In a large bowl, beat butter with both types of sugar for 3-4 mins, until creamy and pale. Add vanilla and one egg, beating until incorporated. Add second egg and mix thoroughly again.
Add flour mixture and beat until just combined. Stir in chocolate chips. Chill dough 30-60 mins, until stiff and not sticky.

Assemble the cookies:

Once dough is chilled, scoop out 3 tablespoons of dough (I used this large cookie scoop) and drop 2 inches apart on a baking sheet lined with parchment paper or a silicone baking mat. Repeat until you have 22 cookie dough balls.
Use your thumb or the end of a wooden spoon to make an indent in the middle of each ball of cookie dough. Place a frozen Nutella dollop in the hole, then pull the sides of the cookie dough up to cover it. Gently roll into a ball and place back onto baking sheet.

Optional:

place 5-6 chocolate chips and sprinkle a little salt on top of each dough ball.
Place in freezer until dough is frozen (at least 1 hour or overnight).
When ready to bake, preheat oven to 350°F. Bake 12-14 minutes, until cookies have flattened with a slight dome (but not a hump in the middle) and the outer edges are starting to harden but centers are soft and puffy. Don't overbake – they will continue to cook after you remove from the oven. Let cool on baking sheet for a few minutes, then transfer to a wire rack to finish cooling.
http://www.52kitchenadventures.com/2014/12/21/nutella-stuffed-chocolate-cookies/
More recipes you'll love: