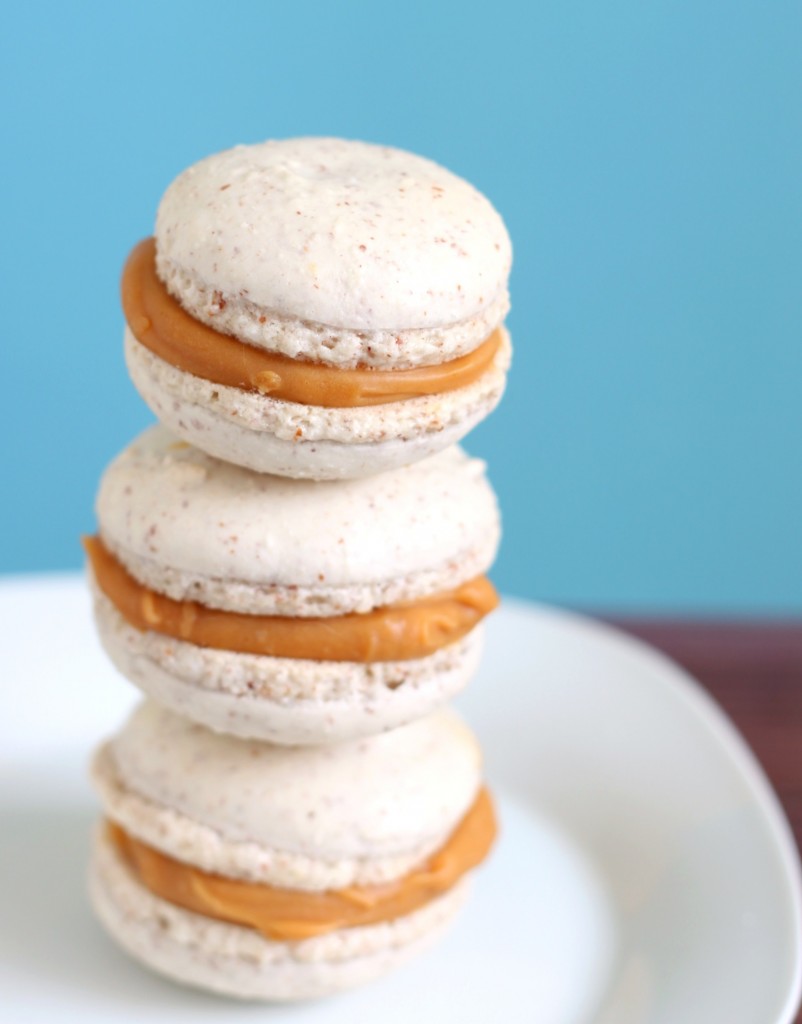 In the fall, I made a bunch of salted caramel things (including one of my favorite cupcakes ever, these salted caramel cupcakes). One day, after posting recipes for salted caramel mochas and salted caramel pears within a week or two of each other, I tweeted something about being on a salted caramel kick and asking what else I should make.
Be careful what you wish for.
One of my coworkers immediately replied to my tweet with her suggestion: salted caramel macarons.
I inwardly groaned. Ugh…macarons. While these trendy little cookies are delicious and fun to eat, they are infamously difficult to make. I made them once when I first began blogging two years ago (see them here: passion fruit and prickly pear macarons). It was pretty successful for a first try (many had "feet," the ruffled edge around the bottom), but I remember them being a lot of work for not quite enough return.
A challenge is a challenge though, and I knew I would try to make them as soon as I read her idea. Truth is, I love a good baking challenge. I was lucky enough to stumble upon Not Quite Nigella's post on a macaron class she took, which included tips and a recipe for salted caramel macarons. If you want to tackle macarons, you have to check out her helpful photos and directions. I also watched this video on making macarons the first time I made them.
These were worth the effort! I don't foresee myself making them again soon, because they are a lot of work, but they were really good. One friend said they were actually better than the ones at Ginger Elizabeth (a wonderful Sacramento chocolatier). I finally got around to trying the macarons there last month, and I too preferred my version of salted caramel macarons only because the one from Ginger Elizabeth didn't have much filling and was barely salty at all (however, I did love the mocha macaron I had there). The salted caramel filling in this recipe has a great balance of sweet and salty – you can taste the saltiness, but it doesn't overwhelm the other flavors.
I ended up with way too much filling so I whipped up some easy chocolate whoopie pies and filled them with the extra salted caramel filling (stay tuned – I'll share those with you in a few days).
Have you ever tried making macarons? How did it go?
Recipe:
Salted Caramel Macarons
Adapted from Baroque Patisserie
Salted Caramel Filling
250g heavy cream
350g castor sugar (fine granulated sugar)
10g fleur de sel
350g butter, cut into small cubes
Caramel Macaron Cookies
300g almond meal (AKA almond flour)
300g powdered sugar
120g egg whites
300g castor sugar
75g water
120g egg whites
Make salted caramel filling:
Place cream into a small saucepan. Pour sugar into a medium saucepan and set aside. Cook cream until it just begins to boil, then remove from heat. Begin cooking the sugar, stirring occasionally so it caramelizes evenly. Once the sugar reaches a dark copper color, remove from heat and pour in hot cream, continuing to stir with a spatula.
Let mixture cool to around 115°F. Add fleur de sel and butter, a few cubes at a time, while continuing to stir the caramel. Once all the butter has been incorporated, pour the caramel into a shallow container and let cool in the fridge.
Once cooled, beat the mixture until light, shiny and smooth. Store in fridge until your macarons are baked and completely cooled.
Make caramel macaron cookies:
Sift together almond meal and powdered sugar. Run through a food processor if needed to remove any lumps. Mix with 120g of egg whites until it becomes a smooth paste and set aside.
In a small sauce pan over medium heat, combine castor sugar and water. Place the remaining 120g of egg whites in a stand mixer with whisk attachment. Once the sugar has reached 239°F, begin whipping egg whites until they have a soft peak. When sugar reaches 244°F, remove from heat and pour slowly into the egg whites, keeping the mixer on low speed. Turn the speed to high for about a minute, then reduce to medium speed for around 2 minutes. Let meringue cool to 120°F while mixing at low speed.
Use a spatula to gently fold in the almond meal mixture into the meringue until batter becomes unified and shiny.
Pour batter into a piping bag with a plain, round tip. Pipe shells onto a baking sheet lined with a silicone baking mat or parchment paper (you can use a template if you want to make them the exact same sizes – just Google "macaron template"). Tap the baking sheet gently so batter spreads a bit (if you use a template, stop piping before the mix reaches the outer edge of the circles and tap until it spreads to the edges).
Preheat oven to 300° and let the batter sit until they form a skin and are dry to the touch.
Bake for 10-15 minutes, turning the baking pan around halfway through. Let them cool completely before removing from pan. You can pour a little water underneath the Silpat/parchment paper to help release the macraons easily (the steam helps).
Assemble the salted caramel macarons:
Remove salted caramel filling from fridge. Soften over a bain marie (you could try using a microwave but be careful – you just want to soften it slightly). Once soften, remove from heat and whisk vigorously until it thickens to a buttercream consistency.
Match up pairs of macaron cookies that are the same size. Spread or pipe some filling on one, living approximately 3mm from the edge. Take it's pair in your other hand and gently twist the two cookies together, letting filling spread all the way to the edges.
Store in the refrigerator for at least 24 hours and let return to room temperature before serving.