Oh, how I love Pinterest. It's such a fun source for inspiration and new ideas. Someone pinned a cupcake bouquet and I knew right away that I had to create one myself. I couldn't find any good guides on making them, so I put together a step by step photo tutorial for you so you can make one too. It's really not that hard – pipe roses onto cupcakes (there's an animated gif below to show you how), put them on some toothpicks into a styrofoam ball. Done!
I think a cupcake bouquet would be a lovely gift for Mother's Day, which is coming up in two weeks. It would work for so many other occasions too – bridal showers, baby showers, birthdays, as a get well gift, or just as a pick-me-up for a friend who needs a smile (and tasty treat). This is the first one I've made and I love how it turned out, except I want to experiment with the fake leaves – I used tissue paper but I'm wondering if I can use real leaves somehow. I will try that out next!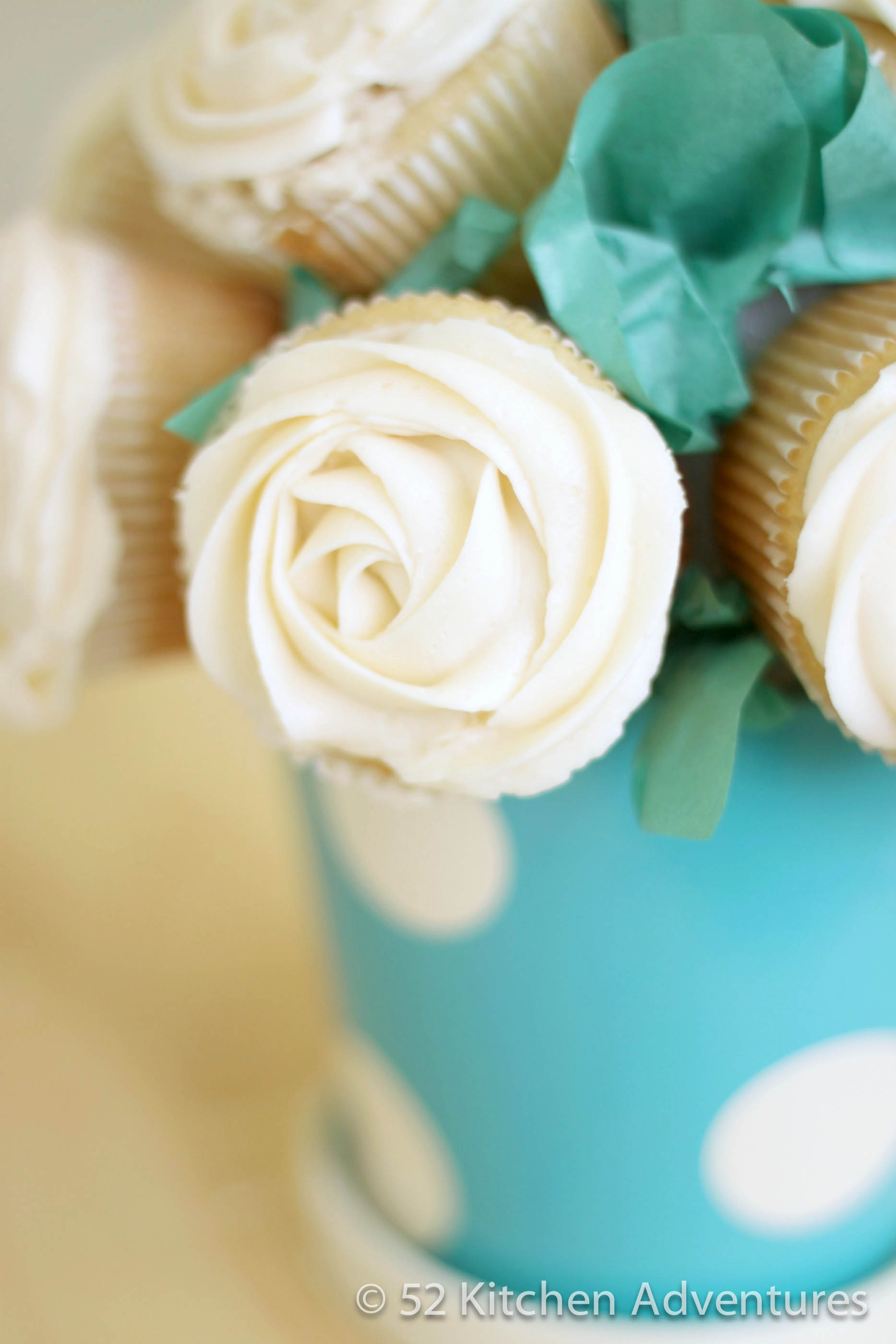 For the cupcakes, I used Cupcake Project's ultimate vanilla cupcake and vanilla bean buttercream (I substituted vanilla extract for bean in the frosting so it wouldn't have flecks in it), which were met with rave reviews:
"As a chocolate person, I think of vanilla as a nothing flavor but this…this has a distinct flavor!"
"I hate frosting but this is great." "The frosting isn't too sweet." "The frosting does taste like melted vanilla ice cream!"
Seriously, I can't recommend these recipes enough: the cake is fluffy with a nice vanilla flavor and the buttercream frosting pipes perfectly and tastes like melted vanilla ice cream.
Who would you give a cupcake bouquet to?
How to make cupcake bouquets: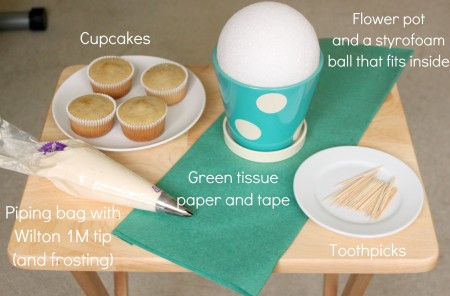 You'll need: cupcakes, frosting, a disposable piping bag or a reusable piping bag
, Wilton 1M tip
 (or a similar open star tip), green tissue paper, clear tape, flower pot, styrofoam ball, and toothpicks. All of these things are available online or at craft stores such as Michael's (that's where I found the adorable polka dot flower pot).
Bake cupcakes and make buttercream frosting. To pipe a cupcake rose, fit a piping bag with a 1M tip and fill with room temperature frosting. To pipe a rose, hold the piping bag perpendicular to the surface and start in the center of the cupcake. Gently squeeze the bag and pipe frosting around in a spiral until you reach the outer edge, then let go. 
Place cupcakes in fridge while you prepare the styrofoam so the frosting becomes firm.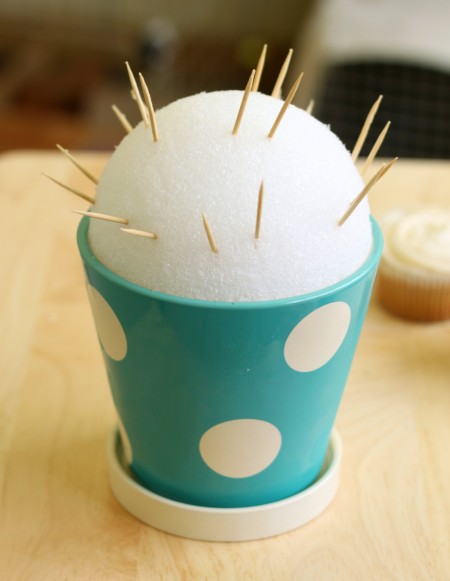 Place styrofoam ball into flower pot. Place two toothpicks in each area where you want a cupcake. Note: around the sides, insert toothpicks at 45° angle, otherwise cupcakes will fall off after a while.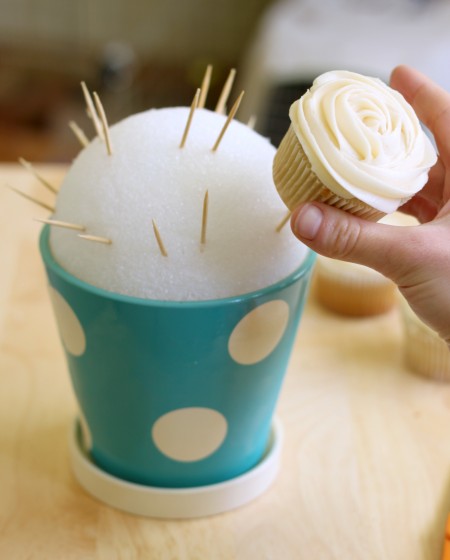 Slide a cupcake onto each pair of toothpicks, adjusting toothpicks as needed to place cupcakes close together. Cover as much of the styrofoam as you can. (My styrofoam ball had a 5″ diameter and fit 10 cupcakes.)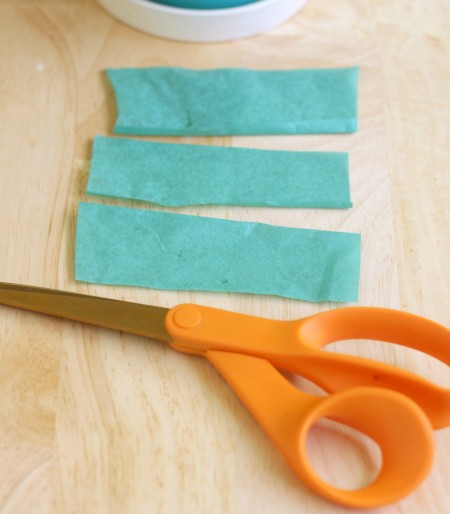 Cut green tissue paper into small strips.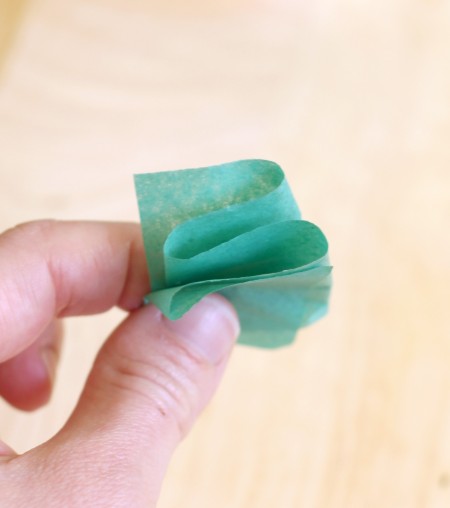 Fold strips into accordions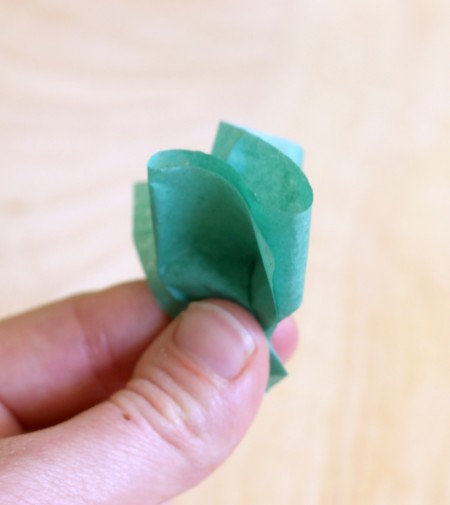 Pinch the bottom of the accordion fold
Place a piece of clear tape at the pinched part of the tissue paper and stick it to the exposed styrofoam in between the cupcakes. Make more tissue paper "leaves" until you cover all the uncovered areas.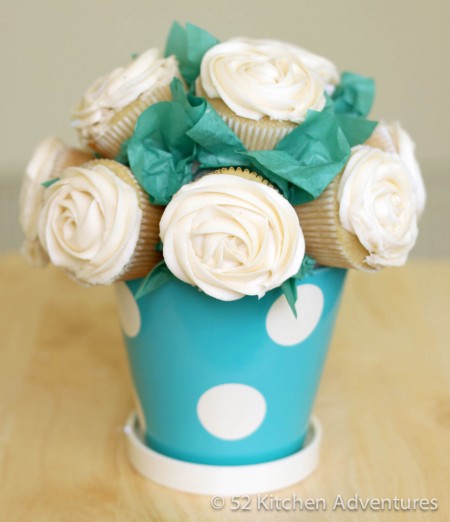 And you're done! Bring your cupcake bouquet to your next birthday party, baby shower, Mother's Day, bridal shower…the possibilities are endless!