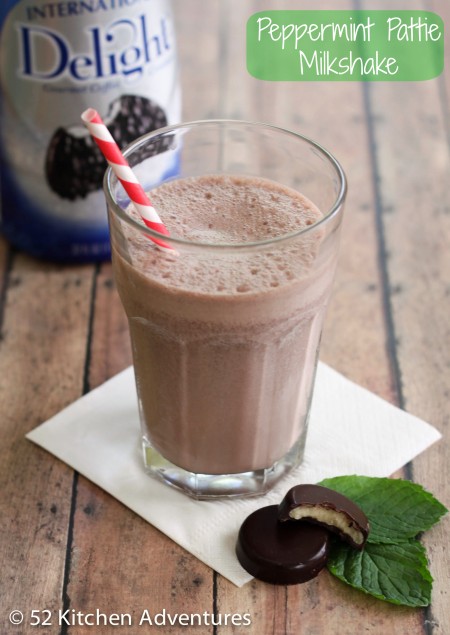 My all-time most absolute favorite flavor combination is mint + chocolate. If you glance at my dessert recipes, you'll find ample evidence: 3 kinds of mint chocolate cake pops, peppermint chocolate cupcakes, and peppermint chocolate cake. I can't get enough, and lucky for me, International Delight has a creamer flavored with York Peppermint Patties (one of my favorite candies, naturally).
While York Peppermint Pattie is obviously my choice of ID, they have over a dozen other yummy flavors, from salted caramel mocha (another one of my favorites) to southern butter pecan. They're asking you to pick your ID here – and when you do, you'll be entered to win tons of prizes, including a magical trip to Walt Disney World.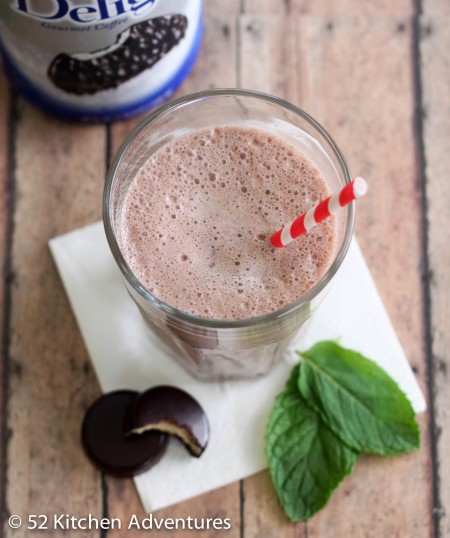 I used my ID to make a creamy milkshake that's to die for if you love mint + chocolate. It's super easy too – just blend chocolate ice cream, whatever milk is in your fridge, and a splash of ID York Peppermint Pattie. You can add more or less ID depending on how minty you want it, and even just a tablespoon or 2 add a lot of flavor.
I love this flavor combo so much I made a Pinterest board inspired by anything minty. There are so many awesome mint things, from ice cream to cute necklaces. I've found lots of mint chocolate recipes, mint colored accessories (including my favorite iPhone phone cover), and gorgeous mint tinted cakes so far. Am I missing anything minty you would add?
Peppermint Pattie Milkshake
Ingredients
1 cup chocolate ice cream
1/2 cup milk
2-4 tablespoons International Delight York Peppermint Pattie creamer
Instructions
Place ice cream, milk, and 2 tablespoons of creamer in your blender.
Blend until smooth and taste.
Optional: If you want more minty flavor, add another tablespoon or 2 of creamer and blend briefly.
Enjoy immediately.
http://www.52kitchenadventures.com/2013/07/11/peppermint-pattie-milkshake/
What's Your ID? International Delight is looking for their most passionate flavor fans. Put your ID on the map to enter to win a Magical Trip, play games and discover more unexpected delight. Share your ID flavor at http://whatsyourid.com.
This is a sponsored conversation written by me on behalf of International Delight. The opinions and text are all mine.